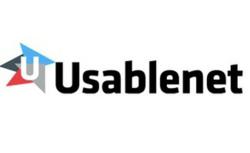 ShopNBC has been very pleased with how customers have responded to our mobile site since the HTML5 upgrade,
New York, NY (PRWEB) April 10, 2012
Usablenet, the leading global technology platform company for mobile and multichannel customer engagement, found that brands that upgraded their mobile sites to leverage next-generation HTML5 features via Usablenet Mobile 2.0 experienced a 28% increase in overall usage, as well as a 11% increase in pageviews per visit and 15% decrease in bounce rate.
Mobile Internet usage is continuing to increase at a rapid rate. In fact, global mobile data traffic in 2011 was over eight times greater than the total global Internet traffic in 2000. Usablenet CEO Nick Taylor noted, "brands must embrace this rapid evolution in customer behavior, and provide them with the same experience and capabilities on mobile as the desktop Web."
"As customers increasingly turn to their smartphones and tablets to browse, shop and buy, it's now more important than ever for brands to offer an engaging and easy to use mobile experience," Taylor continued. "It is evident that upgrading your mobile site with HTML5 leads to greater customer engagement and more time spent on your site."
"ShopNBC has been very pleased with how customers have responded to our mobile site since the HTML5 upgrade," said Tom Kraus, VP of Commerce and Content for ShopNBC.com. "We have seen substantial growth in our mobile site's overall traffic as well as an increase in the number of page views per visit. In addition, our customers have been quick to adopt live streaming of our broadcast channel as yet another way for them to engage with ShopNBC whenever and wherever they choose."
Usablenet is a driving force behind mobile commerce globally, enabling brands to offer their customers all website features and functionalities, on-the-go. In April 2011, Usablenet introduced the industry's first HTML5 platform to help brands deliver a richer and more intuitive user experience within the mobile browser. Currently used by numerous clients including Expedia, ShopNBC and ASOS, Usablenet Mobile 2.0 enables next-generation mobile features such as advanced checkout pages, expand-and-collapse menus, high-resolution image galleries, location-aware features, scrolling promotions, and more.
About Usablenet
Usablenet is a global technology leader for mobile and multichannel customer engagement that works with 20% of the Fortune 1000. Usablenet's transformative technology platform allows leading companies in all sectors to extend their brand to consumers across multiple channels, including mobile phones, mobile applications, tablets, Facebook, in-store kiosks, and other platforms -- with minimal impact to the client's IT resources. Usablenet customers include ShopNBC, Amtrak, Delta, Expedia, FedEx, Hilton, Marks & Spencer, Sprint, JCPenney, Victoria's Secret, and others. Founded in 2000, Usablenet is a private company headquartered in New York City with offices in Los Angeles, Italy and London. For more information, visit us at http://www.usablenet.com or on Twitter @Usablenet.