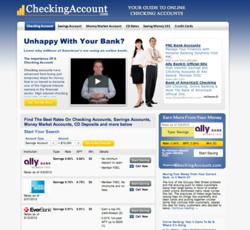 Even Mark Cuban, who is one of the most widely recognized billionaires in the world, had his American Express Black Card rejected for security purposes in a nightclub in Miami.
Delray Beach, FL (PRWEB) April 10, 2012
Leading free checking account comparison website CheckingAccount.com recently published an article that criticizes the widely read financial publication Forbes for a story that suggested that consumers stop using checking account debit cards in favor of credit cards. The disjointed rational behind this article was that it is a way to avoid having your money tied up if a dispute were to arise as a result of their card being fraudulently used.
In the article, Forbes writer Josh Barro made the case that consumers should never use a debit card. Barro's conclusion was based on a story where U.S. Army soldier, Josh McDevitt, got into a dispute with Bank of America over a $25,000 charge to his debit card, which happened in a night club in Athens, Greece, while he was serving overseas.
The problem with the article, explains CheckingAccount.com Co-Founder Sean Patrick, is that "[a]side from the fact that the story seems to ignore the issue of the interest rates and inevitable debt that come along with credit cards use altogether, the scenario in which the writer uses as the basis for this advice is so unusual and infrequent it seems absurd to even consider it as a something that the average consumer could possibly connect with."
Although you do occasionally hear of those unbelievable stories where people have thousands of dollars stolen from their bank accounts, you cannot argue with the fact that most individuals will never find themselves in Josh McDevitt's situation - on the hook for $25,000 in charges from someone's wild spending spree in a night club in a foreign country.
Sean Patrick continued, "The philosophy of abandoning debit cards to rely solely on credit cards to avoid the headaches of disputing a transaction just does not make sense at all. This situation is just bizarre and not the norm.
"It also seems unusual that there were no security alerts or fraud prevention features that triggered the transaction once these charges started to appear. Even Mark Cuban, who is one of the most widely recognized billionaires in the world, had his American Express Black Card rejected for security purposes in a nightclub in Miami. We sympathize with Mr. McDevitt's unusual story and more importantly we thank him for his service to our country.
"All that being said, we believe that Forbes is using this unique and rare horror story improperly and frankly, I think it's terrible advice. Credit cards can be a great way to better leverage your finances if used wisely, but to suggest that someone use it for all purposes is like giving someone a roadmap to overwhelming debt or bankruptcy."
This article did, however, get the team at CheckingAccount.com, who spend their time reviewing online banks and free checking account offers, an opportunity to take into consideration a more attractive banking scenario for the individuals in the armed forces serving their country overseas. The team is now researching whether any major U.S. based brick and mortar banks or online banking companies offers services specifically designed for US military personnel. This information will be featured in an upcoming article.
In the response to the Forbes' article, which is published on CheckingAccount.com, Sean Patrick hypothesizes that a better solution for a scenario like Josh's would be for those serving in the U.S. armed forces to be given special account privileges. These special privileges could include easy suspension of recurring billing on certain services that the soldier will not use while on tour in a foreign country. This would allow the soldier to easily suspend payments to a service that might prove difficult to cancel, such as a subscription to a dating site, music and movie rentals or a variety of other services.
Sean Patrick further explained, "Unfortunately there are some businesses that seem to purposefully make it difficult to cancel a service in an effort to keep member retention levels high. I would imagine that is the last thing anyone in the military wants to have to worry about right before deploying or returning to war."
Taking the idea of giving even more control to the account holder a step further, the CheckingAccount.com article goes on to describe a feature that would allow military personnel stationed outside of the United States to essentially enable a feature that would block any charge that was not defined as an authorized recurring bill such as a car payment or electric bill. The purpose, in the event the account information or card be compromised without the individual in the military being aware of it, would stop any charge. Clearly if someone is stationed in Iraq or Afghanistan they won't be purchasing a new LED TV back home at the local Best Buy.
CheckingAccount.com closes the article out by giving Forbes credit for publishing an article recommending something so ridiculous, because it resulted in some of the writers at CheckingAccount.com to discuss the theory and what would be better alternatives and more useful services and account features for those brave individuals protecting our country.
CheckingAccount.com is based out of Delray Beach, Florida and is powered by the BankAds, which is a network of financial services websites; some of which include OnlineBanks.com, MoneyMarketAccount.net and BestCreditCardForMiles.com.