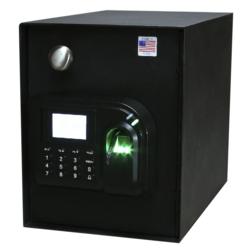 A key override is a joke and will lead to more problems than it worth
(PRWEB) April 10, 2012
Memphis, TN: New research shows most options for narcotic security solutions have a "weak-link" in their control chain when it comes to protecting against and tracking unauthorized access. Single PIN access offerings with Key Over-Ride systems expose this Achilles heel. To keep narcotics safe, emergency medical providers are now turning to MedixSafe for dual or triple credential access requirements and no key over-ride. MedixSafe offers three models of narcotics cabinets.
Attempts at keeping narcotics safe are futile if a key can over-ride all security measures and leave any means of accountability in question. A Single PIN system with key over-ride can cast reasonable doubt that an employee might not be the perpetrator as the systems event log indicates. Legal implications for dismissal or prosecution can be very expensive. A lawsuit could result in paying damages for loss wages, reputation, stress, and discomfort. The court could even order rehiring the offender.
Is Key Over-Ride worth the risk? No, it is not. The whole premise is based on access during a power failure. "A key override is a joke and will lead to more problems than it's worth. If the safe is in an ambulance or fire truck and it loses power, well then you are out of business anyway and you need to get another rig there to finish the job. If the safe is in a building 99% of today's emergency service buildings have generator back up so they will still have power to the safe" - John McGuire, Jericho NY Fire Department.
The possibility of power failure in an emergency vehicle is minute. Emergency Vehicle Maintenance of Huntingdon Valley, PA explains, "Upkeep and repair of these vehicles is very particular and has a scope much larger than a typical car or truck." Power loss would result from a dead battery. The charging system is one of the easy systems to diagnose and shows symptoms before complete failure. In fact, vehicles have gauges and warning lights to alert the driver of potential problems. Many emergency vehicles are also equipped with generators as an additional source of power. McGuire also claims, "In the 3 years, MedixSafe has been in the Jericho FD we have not had one problem. I really would like to know why they need key over ride."
The MedixSafe Biometric M2 is the ambulance trade's most technologically advanced Triple Access Security Solution. The revolutionary M2 is equipped with a stand-alone networkable TCP/IP based controller and designed to require combinations of fingerprint, PIN and Proximity Card for access.
Keys or PIN numbers alone are no longer enough to ensure security and accountability for emergency narcotics access. Across the country, controlled substance inventory loss is having a critical impact on patient care, staff integrity, liability, and the bottom line. This has led to new regulatory demands for an access audit trail – the M2 not only enforces authorized access, it tracks access for unprecedented accountability. MedixSafe offers unique, field-tested security technologies to meet those demands. Contact MedixSafe for more details. http://www.MedixSafe.com
Sources:
http://medixsafe.com/news
http://lowermoreland.patch.com/listings/emergency-vehicle-maintenance
http://emergencyvehiclesales.net/inc/sdetail/1442/1446