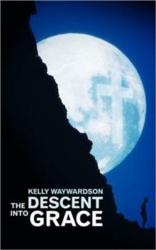 ARLINGTON, Texas (PRWEB) April 11, 2012
In her new book The Descent Into Grace (published by CrossBooks), author Kelly Waywardson chronicles her journey to overcoming addiction, pain and faithlessness to find acceptance in the embrace of the Lord.
"This book is my journey into the deeps of sin and addiction," she writes. "It is the story of how God came looking for me and found me. It is a story of the healing and hope He gave to me and how He recovered my life from the deeps of those sins." She goes on to say:
"No matter how many times I turned my back on God, He never turned His back on me. He has always been there refusing to give up on me. He has always met me exactly were I was at, never judging, never condemning, simply there offering forgiveness for my taking. All I had to do was ask for it and take hold of His hand. From the beginning of my life, and to the end of my days, God has always been and will always be with me - teaching me, guiding me, loving me, and delighting in me. And in the end I will have nothing more then when I began, but I have God's grace and that makes it enough."
Waywardson knows the power of redemption, and she hopes to be able to help others along the same path. "There are millions of hurting people in the world," she says. "This book serves as a road map to finding their way into a program that will bring them healing."
About the Author
Kelly Waywardson was born just outside Harrodsburg, Kentucky. Her parents divorced shortly after she turned 6. Her mother was awarded custody. She was moved from place to place, as her mother tried to find the best place to raise her children. She was moved to Texas when she was 12, where she resides today. By age 18, she had sunk deep into heavy drug and alcohol use, and her life was in shambles. In the midst of her destruction, God called her back to His loving arms. Her life was turned around through her faith in God, and her love for Him grows daily.
CrossBooks, a division of LifeWay Christian Resources of the Southern Baptist Convention, is a Christian publishing imprint committed to bringing more Christian voices into the publishing industry. Established authors, first-time authors, and authors anywhere in between can meet their goals and fulfill their vision for their books by publishing with CrossBooks. CrossBooks' innovative style of publishing blends the best of traditional and self-publishing. While our authors contribute monetarily to cover the cost of publishing, we maintain a strict moral and quality standard that every manuscript must meet for us to publish. For more information on publishing your Christian book with CrossBooks, log on to crossbooks.com or call 1-866-879-0502.
###