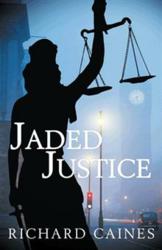 THONOTOSASSA, Fla. (PRWEB) April 11, 2012
Richard Caines' new mystery novel "Jaded Justice" (published by Abbott Press) is many things: a tantalizing suspense, a fast-paced mafia story, a murder mystery and a historic look at American and Cuban history. It's a story readers won't soon forget.
"It's a mystery with twists, turns and a surprise ending that, in spite of the faded evidence, ties historical conspiracy theories involving the CIA, mafia, and the Dallas Police with the assassination of an American president," summarizes Caines.
In "Jaded Justice," readers meet Rick Butler, once a Special Forces soldier. Rick is now a private investigator specializing in evidence for divorce cases. He rarely encounters violence; instead, he usually finds himself laid back and bored taking covert pictures of adulteress spouses as evidence for divorce lawyers, which keeps his bank account comfortably in the black – that is, until he's hired to follow Anne Blackmon. It would have been an open–and-shut case, if Blackmon hadn't ended up dead while on Rick's watch.
Caines' story then takes an international turn as Rick discovers more about the slain Anne. Caines, who has a military background, imbues this story with a real-life understanding of defense tactics and politic affairs.
An excerpt from the back of book:
"Rick didn't know Mrs. Blackmon was mixed up in something much more serious than an affair—something involving the CIA. A group of agents are on the warpath for one last shred of revenge. The agents were involved in the Cuban Bay of Pigs offensive, but they know someone tipped off Fidel Castro about the incoming attack. Because of this leak, many of the agents' friends were killed in Cuba. Now it's time for some payback, and Rick might be a perfect diversion."
"Jaded Justice" provides much to enjoy for mystery fans. An enthralling read, it is sure to keep readers on the edge of their seats for the entire ride.
About the Author
Richard Caines spent six years in the military, spanning the period from the Bay of Pigs invasion to the Cuban missile crisis and Vietnam. Jaded Justice is his second mystery novel. He has also authored short stories for publication in various mystery magazines. He currently lives in Florida.
Abbott Press, a division Writer's Digest—the oldest and most respected publisher devoted to the education and advancement of writers—is an indie-publishing imprint dedicated to helping writers bring their literary vision to print. Author Solutions, Inc., a leader in indie book publishing, will fulfill publishing, sales, and marketing services for Abbott Press. For more information, or to begin publishing a book today, log on to abbottpress.com or call 866-697-5310.
###