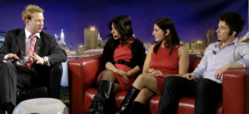 New York, NY (PRWEB) April 13, 2012
The Chicago Tribune has recently purchased the rights to an editorial by Bobby Oerzen on the "texting generation." The editorial, titled "OMG! Can parents learn 2 txt?", explores the generational gap encouraged by modern technology.
Oerzen, who graduated from Queens College's in 2007, divided his concentration between fiction and French literature. The 28-year-old, New York City native has an impressive resume of published writing, in both fiction and non-fiction.
Upon graduating with his MFA, Oerzen accepted a position at Reader's Digest, working under the Weekly Reader Custom Publishing imprint. Hired as a proposal writer, Oerzen helped brainstorm and pitch custom programs for elementary and middle school students.
During his time at Reader's Digest, Oerzen placed his short fiction in Piker's Press, Thieve's Jargon, and the distinguished, flash fiction magazine, Word Riot. The short stories range from vignettes from Oerzen's childhood to social commentaries on scientific ethics.
Oerzen has also published close to two-dozen articles for Current Science magazine. The nationally circulated print magazine features articles from Oerzen on topics ranging from Cro-Magnon societies to custom bikes crafted from bamboo.
While breaking stories in Current Science, Oerzen held a position at Genetic Engineering and Biotech News as an assistant editor. In August 2009, Oerzen left GEN to devote more time to his writing as well as several entrepreneurial projects.
Almost two years later, Oerzen's writing career has benefited from his departure from the salaried workforce. Oerzen's published over 100 articles since leaving GEN in both print and online platforms. His diverse resume includes articles on ancient Rome, commentaries on the Occupy movements, and men's interest pieces.
Oerzen has also ghostwritten several successful eBooks under a variety of pseudonyms.
His most notable success, however, has been placing his editorial, "OMG! Can parents learn 2 txt?", in The Chicago Tribune. Oerzen has appeared on various expert panels and has been asked to speak on writing at several conferences.
He currently resides in New York, NY and is working on a memoir.
Bobby Oerzen graduated Queens College MFA program in 2007 with a primary concentration in fiction and a secondary concentration in French Literature. His creative thesis was a novella, advised by Professor Mark Weiss.