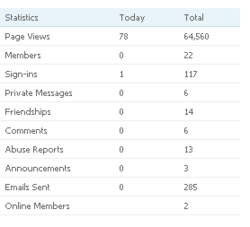 UrBusinessBook.com reaches a milestone.
Fredericksburg, VA (PRWEB) April 10, 2012
UrBusinessBook.com reaches a milestone with over 60,000 hits to the website in 4 weeks.
If you don't know where to begin, start right here at UrBusinessBook.com. Businesses are entering the world of social media to market their business through social media. At UrBusinessBook.com promoting and marketing a business has never been easier, a few clicks of a mouse and a business profile is created.
UrBusinessBook.com helps clients get started with promoting a business through social media. Businesses that use UrBusinessBook.com to build an online reputation succeed. One of the Featured Fredericksburg businesses, C and T Produce currently has increased their visibility by 321 views, Meineke Car Care Center another Featured business in Waldorf, MD has 240 views to their business website page on UrBusinessBook.com.
UrBusinessBook.com is simply, easy and effective. As an entrepreneur of a business, getting goods or services out for consumers to see is very important in today's social media environment. UrBusinessBook.com allows a business owner to step right into social media with the integration of Facebook and Twitter. With a click of a button UrBusinessBook.com's activity feed shows up directly on Facebook and Twitter in real time.
The use of UrBusinessBook.com has drastically increased traffic to a business website page. "It's a simply and straight forward way to get a business to the top of all search engines." UrBusinessBook.com understands business owners need to spend more time running their business then spending on social media. This is where UrBusinessBook.com rises to the occasion.
UrBusinessBook.com offers cutting edge technology to market a business online to see immediate growth and success. UrBusinessBook.com keeps up on latest trends in social media and internet marketing to pass the success on to its clients. Businesses are looking for an easy way to jump start their business to the top. UrBusinessBook.com is the yellow brick road to business success.
UrBusinessBook.com takes the worries of social media failure away, start today and see immediate results. "Promote your Business today for free at UrBusinessBook.com"