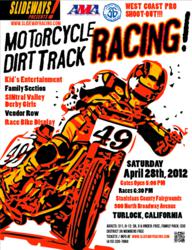 Professional motorcycle flat track racing is returning to the Central Valley in a big way. 25 years is too long!
Turlock, CA (PRWEB) April 18, 2012
Slideways is proud to announce the return of professional motorcycle dirt track racing to the Stanislaus Fairgrounds. After a hiatus of 25 years, the original extreme sport is returning home to Turlock, California.
This area is the birthplace of many of America's most talented riders, producing a who's who of motorcycle racing. Kenny Roberts, the man who Cycle News named the "Rider of the Century" was born and began his career here. And now, Slideway Racing is bringing it back again.
"We are expecting the top motorcycle racing talent on the West Coast to be in attendance at this event with riders from Washington, Oregon and Southern California making the journey. Entries are such notables as Grand National Championship riders Stevie Bonsey and Jethro Halbert. The excitement has spread like wildfire, and several riders from the East coast are expected to compete in the event." noted Randy Kremlacek, CEO of Slideways.
In addition to the professional riders, the event will showcase the top regional AMA (American Motorcyclist Association) District 36 riders who are keen to hone their skills in front of a fervent crowd and sponsors. Add in the exhibition knobby and quad classes, and there were will be something for everyone.
As a special treat, spectators will be honored to be in the presence of World Champion road racer John Kocinski who's returning to his roots and contesting this event on his pristinely-prepared vintage 250.
In addition to the hot action on the track, there will be loads of entertainment on tap. There will be a special appearance by the SINtral Valley Derby Girls, San Joaquin Valley's leading roller derby team. It will be a rich night of entertainment and excitement including the following attractions:

Motorcycle Vendor Row
Race Bike Display
Kid's Entertainment
Beer Garden
Admission:

Adults: $11
6-12: $6
5 & Under: Free
District 36 Members: Free
Family Pack: $30 (family of four or less)
Gates open at 5, racing starts at 6:30
Slideways is a progressive promoter of professional and amateur motorcycle dirt track racing in Northern California. For further information, contact Randy Kremlacek at 415-320-7889 or info(at)slidewayracing(dot)com.