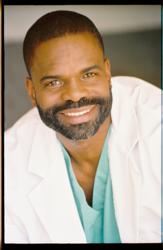 African-American men have the lowest life expectancy of any segment in the country. African-American men are more likely to have a heart attack and stroke and 20 times more likely to have kidney failure and to be on dialysis.
Los Angeles, CA (PRWEB) April 10, 2012
Diabetes is reaching epidemic proportions in the United States, and it's killing more people every year. The biggest single problem is not the diabetes itself. It's the lack of knowledge about this chronic disease. Podiatric surgeon Dr. Bill Releford, founder of the Black Barbershop Health Outreach Program, is featured on KCET's Health Alert: Diabetes.
ABOUT DR. BILL J. RELEFORD
Dr. Bill J. Releford, a podiatric surgeon based in Los Angeles, is a graduate of the Temple School of Podiatric Medicine in Philadelphia. He began his practice in 1990 and established the Diabetic Foot Institute. As a podiatric surgeon based in Los Angeles, Dr. Releford specializes in diabetic limb salvage to help reduce the extraordinary high number of diabetes-related amputations experienced by African Americans. The astronomical amputation rate in the African American community inspired Dr. Releford to dedicate his life to developing innovative medical as well as advocacy strategies to increase health awareness and decrease diabetes and the amputation rate in underserved communities.
Dr. Bill J. Releford launched two innovative initiatives to address health disparities in the African American community. The Black Barbershop Health Outreach Program was launched October of 2007 out of the need to address health care disparities among African American men with the mission to SCREEN, EDUCATE and REFER men to local health care resources. Additionally, Dr. Releford authored the book "The 5 Colors a Day to Better Health" in February 2009 to address the lack of awareness about healthy food choices and the consequences of developing diabetes and other chronic diseases. "The 5 Colors a Day to Better Health" introduces a simple way for people of all ages to choose better foods to promote better health. The book is the foundation of Dr. Releford's national campaign to fight diabetes, obesity and high blood pressure. To help people achieve their health goals and objectives, a fitness component and a cooking device have been developed that will allow busy people the opportunity to prepare healthy meals for their families.
Dr. Releford and his efforts have recently been highlighted in the Los Angeles Times, The Washington Post, Newsweek Magazine, THE VIEW, THE DOCTORS, NBC Nightly News with Brian Williams as well as the TODAY SHOW and more. Additionally, Dr. Releford's innovative community organizing strategies culminated into an invitation from President Obama to attend this year's White House Super Bowl Party.