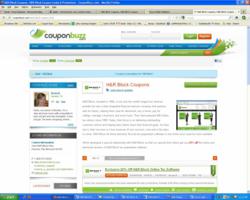 This particular software is a hand-holding genius, it walks you through every step of the preparation process...
Houston, TX (PRWEB) April 10, 2012
H&R Block tax software is some of the very best on the market for helping individuals who, for various reasons, have procrastinated filing their taxes until now. CouponBuzz.com is currently featuring a number of great coupon codes and special offers for H&R Block tax software focused on helping their site visitors get started for less initial investment. With exactly one week to go until the April 17th tax filing deadline for 2012, it is past time to get moving.
"We find that sometimes people wait until the last minute to get their taxes started simply because they don't know how to begin," said Justin Bowen, CEO of CouponBuzz.com. "One of the greatest things about the current H&R Block coupons we are featuring is that they provide a tempting price-break on the H&R Block tax software. This particular software is a hand-holding genius, it walks you through every step of the preparation process and helps ensure that you have all your ducks in a row."
There are several excellent reasons for using one of CouponBuzz.com's featured coupons for H&R Block tax software and getting started today. For example, a lot of the deductions and tax breaks that can reduce an individual's total tax burden require receipts – and these can take time to locate. Trying to find them at midnight on April 16th is probably going to be less effective. Just saying. In addition, sometimes filing taxes requires information from other individuals, like parents, adult children and family members. Getting slapped with a late penalty because someone doesn't answer their phone is not the way to go.
Finally, once an individual gets into the tax filing process, it is possible that they could simply find themselves in over their head in a frighteningly complex tax situation. Starting today to get taxes prepped allows an individual some time to get help. Not a lot of time, but better than no time. And regardless of whether they opt to utilize the free advice from the tax experts at H&R Block or hire an outside tax preparer, the professionals still need time to deal with the issues.
Just because an individual is a tax-procrastinator doesn't mean they need to leave money on the table, but that means taking two essential steps immediately. First, stopping by CouponBuzz.com to pick up a coupon so they can purchase downloadable H&R Block tax software for less. Second, using that software today, so they can maximize their refund and avoid those nasty late fees. Find all the featured H&R Block coupons here http://couponbuzz.com/handr-block-coupons.html.