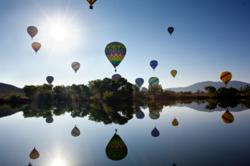 Temecula, CA (PRWEB) April 11, 2012
The Temecula Valley Balloon and Wine Festival announced that Lifehouse, Phil Vassar, Chris Cagle, Gloriana, Soul Asylum and Tonic will headline the concerts at the event June 1-3, 2012.
Lifehouse, the L.A. based alternative rock band known most recently for their hit "All-In" will headline the Temecula Valley Balloon & Wine Festival on Saturday, June 2 of the three-day event.
The band hit mainstream prominence in 2001 with the hit single "Hanging by a Moment" from their debut studio album, "No Name Face." The single won a Billboard Music Award for Hot 100 Single of the Year, beating out Janet Jackson and Alicia Keys for the #1 Single of 2001.
Lifehouse released the album "Smoke & Mirrors" in 2010 which spawned the hit song "Half Way Gone," "All In" and "Falling In." The album was #2 on the Billboard Rock Album Charts for 2010.
The group includes Jason Wade (lead vocals, rhythm guitar), Rick Woolstenhulme, Jr. (drums, percussion), Bryce Soderberg and Ben Carey (lead guitar). Founding members Jason Wade and drummer Ricky Woolstenhulme Jr. met in Los Angeles and formed the band in the late 90s.
Combined album sales are over five-million and Lifehouse singles have sold over three- million copies online including #1 hits "Hanging By a Moment" and "You and Me." Lifehouse singles "First Time," "Whatever It Takes," and "Broken" have also achieved major chart and sales success. The band's hits maintain chart positions on iTunes, years after their initial release and their video streams are at 70 million and counting.
Country Friday at the Festival features Phil Vassar, Chris Cagle, and Gloriana in concert. A prolific songwriter and versatile performer, Vassar was first discovered by Engelbert Humperdinck in a Nashville club. Humberdinck recorded Vassar's "Once in a While" in 1996, leading to a publishing contract with EMI and a string of hits written for country stars including : Collin Raye "Little Red Rodeo," Alan Jackson "Right on the Money," Tim McGraw "For a Little While," Jo Dee Messina "Bye Bye," and "I'm Alright," and BlackHawk "Postmarked Birmingham."
Since 2000 the singer has recorded six albums. His debut album, "Phil Vassar," was released in early 2000 and produced five hit singles on the U.S. "Billboard" country singles charts and was certified gold in the United States. Hits include "Carlene," "Just Another Day in Paradise," "Six-Pack Summer," "American Child," "That's When I love You," "In A Real Love," "I'll Take That as a Yes (The Hot Tub Song)," "Last Day of My Life," and "Love is a Beautiful Thing." Vassar's "Bye, Bye" earned Vassar his first American Society of Composers, Authors and Publishers (ASCAP) award for Song of the Year, and in 1999 he was named ASCAP's Songwriter of the Year.
Chris Cagle hit the country charts in 2000 with the hit single " "My Love Goes On and On" from his 2001 debut album "Play It Loud." The first album had two more hits "Laredo" and "I Breathe In. I Breathe Out." Since then his hits include "Chicks Dig It" (#5 ), "What a Beautiful Day" (#4) , "Miss Me Baby"(#12), "What Kinda Gone" (#3), and "Got My Country On" (#15).
In 2010, Gloriana won the Academy of Country Music's Award for Top New Vocal Group and was nominated for a Teen Choice Award for "Choice Country Group." The best-selling debut country act of 2009, Gloriana debuted at #2 on the Billboard Country Albums chart and #3 on the Top 200 chart. The album spawned the hit single "Wild At Heart." The album's success led to two years on the road, during which the band performed in front of millions worldwide as Taylor Swift's handpicked opening act on her Fearless Tour. Gloriana also won the fan-voted-on American Music Award for Breakthrough Artist, as well as the "Nationwide On Your Side" honor at the CMT Awards. The group has a new album "A Thousand Miles Left Behind" due to be released this summer. The single "(Kissed You) Good Night" from the album is climbing the country charts and is #22 on Billboard's Country Chart as well as #17 on the Heatseekers Chart
The Festival's Rockin' Saturday lineup includes Soul Asylum and Tonic. Formed in 1983 in Minneapolis, MN, Soul Asylum has maintained their reputation for honest, heartfelt rock from their beginnings through their commercially successful days on A&M and Columbia Records (where they scored a Grammy for the monster hit single "Runaway Train"). The band has persevered through the good times of garnering several platinum albums and accolades including a performance for the Presidential inauguration of Bill Clinton. Soul Asylum will release their first album in six years, "Delayed Reaction" on July 17.
In 2003 Tonic received two Grammy nominations -- one for Best Rock Performance By A Duo or Group With Vocal for "Take Me As I Am" and Best Rock Album. The band contributed to soundtracks including Scream 2, American Pie, The X Files, and Clay Pigeons.
The Temecula Valley Balloon and Wine Festival kicks off Summer 2012 as it has for the past 29 years, with more than 20 Temecula Valley wineries, over 40 hot air balloons in dawn launches, evening balloon glows, food and wine pairing with chef demonstrations, hundreds of booths featuring arts and crafts, exhibits and souvenirs, plus concerts on two different stages. A three-day showcase of the Temecula Valley Wine Country's greatest assets, the Festival greets 40,000 guests annually at the Lake Skinner Recreation Area. The lake and park are surrounded by the Shipley Preserve and provides Festival guests natural vistas whether flying aboard a hot air balloon, or planted on terra firma.
Opening night, Friday evening June 1 is a crowd-pleaser as families pour into the Festival in anticipation of the evening "Glow." Gates open at 3 p.m. Friday to an Arts and Crafts Faire, Kids Faire, exhibits, international food court, concerts on the main stage and wine tasting. Make Temecula hotel reservations early during the Festival week. For information visit http://www.tvbwf.com or call (951) 676-6713.