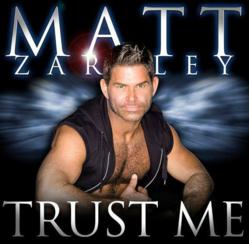 Is America ready for its first gay president?
Los Angeles, CA (PRWEB) April 10, 2012
Billboard dance sensation, Broadway veteran and People Magazine "Hottest Bachelor" Matt Zarley has received critical acclaim as an LGBT artist for more than a decade. In his latest music video, "Trust Me," he asks the question - "Is America ready for an openly gay president?" This sure-to-be controversial music video infuses disco, a Presidential political sex scandal, homosexuality and social and self-acceptance - and will certainly ruffle the feathers of the G.O.P. (This is the video Rick Santorum probably doesn't want anyone to see.)
Written by Zarley, Mark Picchiotti and Joe Hurt, "Trust Me," is poised to race up the US and UK charts this summer – already becoming a favorite of DJs on both continents. The track featured in the music video is by Cahill, one of the hottest remixers in the business (Lady Gaga, Rihanna and Leona Lewis), and was directed by Benjamin Pollock and choreographed by Benjamin Allen. The video is sure to have people talking very much like Zarley's music video, "WTF," which received hundreds of thousands of views on YouTube and other online media outlets in 2011; along with the song spending the summer on the Billboard dance chart.
"Trust Me," is the third single from Matt's critically-acclaimed CD, "Change Begins With Me," and is also creating a buzz with the media. The Advocate calls the song "yet another irresistible disco anthem from out performer Matt Zarley." Named one of Billboard magazine's "Critics Top 10" picks for the year in 2008, Matt has continued to deliver hits that touch the heart, and the dance floor! Critics alike have embraced "Change Begins with Me" with rave reviews, including: "A sexy collection of swoon-worthy songs," (The Advocate); "Matt Zarley is our idea of perfect" (Instinct); "Soulful and inspiring" (Out Q on Sirius XM); "Inspirational!" (Washington Blade); and "Emotionally charged!" (Homorazzi).
Matt's passion for songwriting resulted in his first solo album, "Debut," which was released in 2002 and featured the Billboard dance hit, "You Always Want (what u ain't got)" and "Say Goodbye"; which is also featured on the all-star Human Rights Campaign (HRC) benefit CD, "Being Out Rocks." Matt scored additional Billboard Dance Chart hits with "Where Did You Come From," as well as a cover of the Steve Winwood classic "While You See A Chance," featuring Billy Porter.
Zarley is also an internationally published songwriter and has had numerous songs recorded and released overseas by some of the biggest names in international music. In addition, Matt has the distinction of being named the first openly gay bachelor in People Magazine's "Hottest Bachelors" issue in 2002 – opening the door for other openly gay men to be featured in the mainstream publication.
Matt began his career at 12 years old starring in national commercials and, subsequently, his career led him to Broadway where, still just a teenager, he made his Broadway debut. Zarley has appeared in numerous shows including "Chicago," "A Chorus Line," and "Cats," and has played the title roles in both "Joseph and the Amazing Technicolor Dreamcoat" and "The Who's Tommy" on Broadway. He has also has the pleasure of performing with Whitney Houston, Vanessa Williams, Brandy and Usher.
"Trust Me" (and its remixes) is currently available on iTunes and other digital outlets, along with his full music and video catalog. Matt can also be seen across the country this summer performing at various Pride festivals and LGBT events. For more information visit http://www.MattZarley.com or follow Matt on Twitter and Facebook @MattZarley.