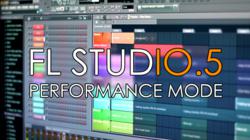 FL Studio is now the fastest way from the studio to stage
(PRWEB) April 18, 2012
Image-Line Software announce FL Studio 10.5 (beta) is now available for registered customers to download from Looptalk (FL Studio user forum). While FL Studio has continued to gain popularity in home & professional studios the path from studio to stage hasn't been as clear as Image-Line would like. FL Studio 10.5 changes all that.
Performance mode allows users to trigger Audio, Automation and Pattern Clips from the Playlist using a mouse, touch screen, typing keyboard or MIDI controller. Special emphasis has been placed on supporting the most popular performance oriented controllers including the AKAI APC20/40, Novation Launchpad, Livid Block, Native Instruments MASCHINE / MASCHINE MIKRO & Korg padKONTROL. A range of position sync, trigger sync, scene (groups) and much more are available as you would expect. Detailed information is available in the FL Studio on-line manual here.
Notable improvements:
Performance Mode
New controllers supported
Unique controller MIDI input port
Linking includes MIDI input port
Play truncated notes in clips
Horizontal/Vertical PR/PL movement locking
Piano roll click & hold functions
Monophonic step entry Piano roll brush tool
Improved Tap Tempo & Fine control
Stay open sub-menus
Right-click data entry for most controls
See here for more details.
About Image-Line Software:
Established in 1994, Image Line Software provides high quality music applications to the computer-based music community and is well known for its leading digital audio workstation FL Studio (formerly FruityLoops), high quality synthesizers including Sytrus, PoiZone,Toxic Biohazard, Morphine, Ogun and Sawer, a mix of innovative Effect plugins like Maximus and Hardcore and range of sample libraries used in their multi-sampler plugins DirectWave and Soundfont Player. FL Studio Mobile. The acclaimed DJ mixing software application Deckadance. In addition to its audio software, Image Line Software develops and distributes the web site EZGenerator.
For more information, please contact:
Scott Fisher, Communications Manager
Image Line Software
E-mail: press(at)image-line(dot)com
http://www.image-line.com/documents/news.php
###