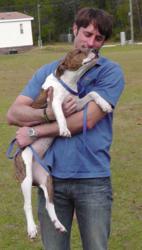 We want to draft a bill and gain support for this legislation through our July caravan efforts with Animal Aid. I'm not open to having healthy lovable dogs killed as a as a means to control the population due to our carelessness and selfishness.
New York, NY (PRWEB) April 11, 2012
When it comes to the country's unwanted pet population, the facts are sobering: just one unspayed female dog and her unsterilized offspring can be responsible for the birth of 67,000 dogs in six years. Only one in nine dogs and cats in the U.S. find homes, leaving between six and eight million unwanted pets to be euthanized annually. Prince Lorenzo Borghese, Founder of Royal Pet Club and the line of Royal Treatment luxury pet care products, is seeking support for his latest mission – to make neutering male puppies the law for all new pet owners.
The objective, Borghese says, is to support a version of a mandatory spay/neuter law that answers to critics who claim that any law requiring mandatory spaying or neutering of a pet is unfair to low income pet owners, and unworkable altogether. Borghese proposes to focus only on neutering male puppies and exempting female pets from the mandate altogether.
"It's usually more difficult to confirm a spayed female than a neutered male," Borghese says. "It makes sense to focus on neutering the males since authorities have an easier time identifying a neutered male.
"As we all know it takes a female and male to make puppies; why not approach the problem with a neuter law and determine how it effects the population and amount of animals euthanized in that state?" Borghese says.
"If the percentages dramatically drop, let's pass the law in every state until we control the population so that no animals are killed due to a population problem."
Borghese believes that by focusing on neutering male puppies, people who can't afford to sterilize a pet could choose to adopt or purchase a female and avoid any legal obligation to spay her. However, if they want a male, they must neuter it.
"If we start slowly and provide statistics, I think we can make a big impact," Borghese says.
In his push to make mandatory neutering a viable method of controlling the country's overwhelming unwanted pet population, Borghese proposes:

All male dogs must be neutered (unless one holds a breeder license) at six months of age unless a medical condition exists that could jeopardize the dog's ability to survive the operation.
To obtain a pet license, the license fee is the neuter fee unless the dog has already been neutered.
If a pet owner breaks the law, their male dog is taken to a shelter and placed on hold for adoption, giving the owner one week to pay the fine, the equivalent of the neuter fee and daily shelter fees. Once the fine is paid and the dog is neutered, he will be able to return home. If the original owner does not provide the neuter fee, the dog can be adopted for the price of the neuter fee.
Borghese says that the harsh reality of life for America's unwanted animals should be incentive enough to enact a mandatory neuter law. With six to eight million animals euthanized each year, it's going to take an aggressive approach like this one to make the U.S. a no-kill country, a mission to which Borghese's Royal Pet Club is committed.
"We want to draft a bill and gain support for this legislation through our July caravan efforts with Animal Aid of the United States," Borghese says. "If one is opposed to it, I'm open to suggestions. What I'm not open to is having healthy lovable dogs killed as a means to control the population due to our carelessness and selfishness.
Borghese, a relentless animal activist who travels the world promoting animal welfare programs, lends a welcome voice to a multitude of charitable organizations whose mission is to improve the quality of life for the planet's animal population.
He has also teamed with Animal Aids veterinary partners for low-cost spay and neuter services in low income areas throughout the United States. Borghese's Royal Pet Club donates $2 from every new customer purchase and five percent of profits from Royal Treatment pet care products to support a spay/neuter program throughout the country.
To learn more about Royal Treatment and Royal Pet Club, visit http://www.royalpetclub.com. To learn more about the Prince click here.
About Prince Lorenzo Borghese and Royal Pet Club:
Prince Lorenzo Borghese, founder and president of Royal Pet Club and Royal Treatment Italian Pet Spa, is passionate about the well being of animals everywhere. His line of pet-friendly organic products were originally created for his beloved Black Lab, Belle. For nine consecutive years, Royal Treatment has been the most successful pet line on the HSN shopping channel. A vocal advocate of spaying and neutering programs, Borghese donates five percent of Royal Pet Club profits plus $2 for every new customer to Animal Aid to support spay and neuter programs across the U.S. Through this program, families unable to afford the cost of having their dog spayed or neutered will be able to have the procedure done for free by a top veterinarian in their community.
Borghese's line of Royal Treatment products were developed to support pet wellness with premium, natural dog shampoos, conditioners, and other organic pet grooming supplies.
Borghese's Royal Pet Club is the online destination for the Royal Treatment line's natural pet spa and wellness products. Made from the finest organic ingredients and fragrance oils, Royal Pet Club's pet grooming products have been developed with the help of leading cosmetics manufacturers, world-renowned veterinarians, and other pet experts from around the world. Formulated in a cosmetics laboratory on the outskirts of Tuscany, Italy, all Royal Treatment grooming products are pH balanced for pet's sensitive skin.
Borghese has worked with numerous animal welfare organizations including North Shore Animal League, the ASPCA and Animal Care and Control of NYC. He is co-founder of NYC4ACC, a group of young professionals who organize fundraisers for this city shelter, and an ambassador to the American Humane Association.
Borghese recently co-chaired the Humane Society of America's live paddle auction with its CEO, Wayne Pacelle, and together they raised $250,000 for the Animal Rescue Team. He is President of Take Me Home Events, Inc., and Shelter Aid, LLC.
For more information, visit the Royal Pet Club website, or Email John Falkenberg.
###