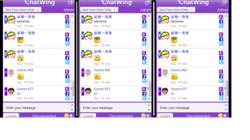 Cambridge, MA (PRWEB) April 10, 2012
The best thing about chatting is that people can discover information that may or may not be helpful. Chatting also brings a stream of entertainment that can bring enjoyment for everyone. Chatwing, a trendy and free chat widget, brings a new level to the chatting platform. Many users are already discovering the benefits of Chatwing gradually.
Chatwing is all about fun chats, leisure, and information. These three factors are combined in a single platter that is meant for everyone. Chatwing is also a simple application that can be installed to blogs through very simple steps.
To install Chatwing, the user must first register his blog's domain name. After that, he needs to create an official Chatwing account. This account will serve as his dashboard for all the widgets he is planning to use. After that, customization takes place. The user can customize the height and width of the widget by adjusting two sliders. Next, he can pick a desirable color. Any color is possible. The user can also rename the widget to fit the theme of his blog.
There are many chat sites that also offer the embedding option. Some of them offer downloadable applications. However, it has been proven that Chatwing offers a higher rate of global connection. Many people also like Chatwing because of its simple navigation and installation. Additionally, people can use adorable avatar displays and cool emoticons. Any topic can also be talked about in Chatwing, but it is clear that most people talk about relationships or any topics related to the host blog.
Chatwing takes the premise of website chat on a whole new level. It encourages bloggers to communicate often to their visitors. Because of Chatwing's winning factors, it is maintaining a desirable Internet ranking. Chatwing is expected to hit the charts before the year ends.
About Chatwing
Chatwing.com has developed live chat software for websites and blogs. The Chatwing.com website offers users the ability to signup and create a customizable live chat feature in 1 minute or less. Users have the ability to customize the size, color, and fonts of the chat product. The ability to chat via social media accounts such as Facebook and Twitter enable Chatwing to offer a personal and unique real-time experience to all sites. Chatwing is 100% free web software.