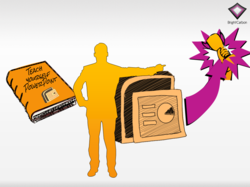 (PRWEB) April 12, 2012
BrightCarbon will run free advanced PowerPoint training sessions for those who want to stop using PowerPoint ineffectively – or inflicting 'Death by PowerPoint'.
The online PowerPoint masterclasses will be held in April. The first session, to be held on 11 April, will look at visualisation – how to represent messages using visuals instead of text. The second session, held on 18 April, will look at presentation design – how to design slides to help communicate messages clearly. The third session, held on 25 April, focuses on PowerPoint animation – including the use of sophisticated animation to capture attention and convey meaning. All sessions are free, and can be booked via the BrightCarbon website.
By teaching the public how to create visually compelling animated slides BrightCarbon aims to help save the business community from 'Death by PowerPoint'. This is the name given to long presentations where slides contain bullet points and text, and where presenters typically read slides aloud. Because audience members can't read the slides and listen to the presenter at the same time, typically the presenter is ignored, and the audience become bored.
About BrightCarbon
BrightCarbon helps sales and marketing teams hit their numbers, by creating visual presentations and B2B sales tools.
BrightCarbon helps companies to tell their stories elegantly and visually, with effective sales presentations and tools that people want to use. With BrightCarbon:

Sales representatives stop wasting time creating their own collateral, and become more productive
Companies improve conversion rates and deal velocity
Average order size increases
BrightCarbon also offers an iPad sales presentation design service, aimed at companies using iPads for face-to-face sales, wishing to avoid the high costs of app development.
BrightCarbon has offices in the UK and Singapore.