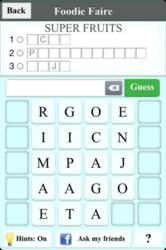 So You Think You Know Words takes advantage of our experience developing the Android version of the popular 7 Little Words app to revolutionize this genre and offers a word game that is challenging, fun, addictive and accessible for all
Cupertino, CA (PRWEB) April 10, 2012
Created in conjunction with a New York Times Crossword Puzzle builder and published by The Smyth Group, So You Think You Know Words offers word gamers of all ages and skill levels a contemporary and easy-to-learn crossword style challenge. The game contains a variety of themed puzzle packs consisting of 100 individual puzzles, each including a cryptic clue and three empty solutions that must be solved using a corresponding grid of letters.
Each cryptic clue appears above three sets of blank tiles showing the length of each required solution. Players must create words that solve the clue using only the letters that appear in a corresponding grid of tiles. Puzzles can be approached in any order with previous successful solutions marked as completed. There is no limit to the number of guesses and there are no time restrictions or penalties for wrong answers; So You Think You Know Words can be played for either a few spare minutes, or for a prolonged period.
To prompt new ideas the tiles can be shuffled at any time by simply shaking the device and hints can be viewed which place one letter into each unsolved solution. Should further help be needed, an option to ask friends posts a copy of the clue to the user's Facebook wall where friends can give suggestions for a solution. Currently featuring puzzle packs "Foodie Fare", "Amazing Animalia", "Simply Synonyms", "Anatomy 101", and with a TV / Movie pack coming soon, So You Think You Know Words provides a long-lasting and addictive word challenge for gamers of all ages.
"We wanted to take the popularity and challenge of traditional crossword puzzles and reinvent them in the form of a contemporary game designed specifically for mobile devices." commented Jamie Smyth of The Smyth Group. "So You Think You Know Words takes advantage of our experience developing the Android version of the popular 7 Little Words app to revolutionize this genre and offers a word game that is challenging, fun, addictive and accessible for all"
So You Think You Know Words, the innovative word game that reinvents the traditional crossword challenge, currently enjoys an average 4 out of 5 rating in the iTunes App Store and is available as a universal app for iPhone and iPad at: http://itunes.apple.com/app/so-you-think-you-know-words/id492582070?mt=8
Additional versions for Android, Kindle Fire and Nook Color can be downloaded at http://soyouthinkyouknowwords.com.
To celebrate the launch, The Smyth Group is giving away a new Kindle Fire. Enter to win here: https://www.facebook.com/Thesmythgroup/app_208195102528120
For more information or media inquiries, contact Mark Johnson of appshout! on behalf of The Smyth Group at +1 408 757 0156 or press(at)myappshout(dot)com.
About The Smyth Group
We're a full service mobile app development shop based here in the US. We've written over 150 apps for iPhone, Android, iPad, Blackberry, Kindle and Nook. 3D games, newspaper, radio, location aware, e-commerce, informational apps - we've done it!
More Information: http://www.thesmythgroup.com