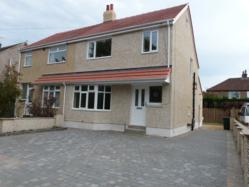 The start up company is currently inviting home owners to advertise their property on the site for free.
(PRWEB UK) 11 April 2012
Two Manchester based, Lancaster-born entrepreneurs have launched an online property portal to help individuals save thousands of pounds when buying or selling a house.
The online portal – http://www.housetrade.co.uk – enables individuals to sell their house privately, avoiding excessive estate agency fees and putting them in control of negotiations and viewings.
Shaun Coulthwaite (28), managing director and close friend Neil Arkwright (28), operations director of Housetrade, recently set up the online business initially focusing on Greater Manchester, Lancashire and Cheshire. The pair have continued to work on other projects whilst setting up the business in order to invest in its development and to expand into other geographical areas.
Coulthwaite says: "In the current environment, the property market has become increasingly stagnant. People simply can't afford to move house or get on the property ladder.
"The number of unsold houses on the market has reached its highest level in two years and with the average UK asking price discount now at £19,580 (7.5%)[1], an all-time record and £1,105 higher than it was this time last year, an increasing number of sellers are being left out of pocket. Buying and selling property can be stressful and costly. Our aim is to make property transactions as simple and efficient as possible."
Housetrade gives buyers and sellers the opportunity to talk directly, without an estate agent taking a large percentage of the transaction of the value. It provides a step by step guide to selling your house privately, as well as looking at other routes to market including part-exchanges and auctions.
The start up company is currently inviting home owners to advertise their property on the site for free. This offer is open to the first 100 people who register to sell a property through the website. After this period sellers will be able to advertise a property from as little as a £99 fixed fee with no commission upon sale for a standard 3 months classified advertisement. Alternatively other sale types such as part-exchange and online auctions require no up front entrance fees and a £499 fixed fee is due upon sale.
Coulthwaite adds: "The whole purpose of Housetrade is to make it easier and cheaper for people to sell their houses privately. Over the last few years, individuals have had to look for new ways of reducing their expenditure and we hope to instrument much needed cost savings in the property market."
Housetrade has teamed up with a range of specialist providers needed for buying and selling a house including surveyors, energy performance certifiers and conveyancing. By bringing all the required services under one banner, Housetrade.co.uk provides all the tools for selling a house from start to completion.
[1] According to new research by property website Zoopla in Jan 2012