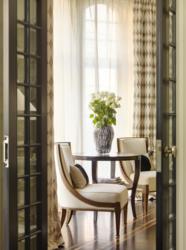 "A home is not a museum and it should be ready to adapt and assume the inimitable patina of your personality," Erika says.
(PRWEB) April 12, 2012
As India's luxury market continues to grow year on year, by appearing in India Today's magazine presents Casa Forma a great opportunity to reach those clients in India who appreciate very luxurious and higher standard of product and design.
Erika talks about how the allure of creating living environments which are cosmopolitan aesthetically is an art. Spaced fashioned where classical, deco and modernist influences coalesce into an ambience that is plush, sophisticated and balanced is what good design is about. Refurbishing a home is a large expense; long lasting timeless interior and architectural design rather than fleeting trends should be the dictating line.
She then goes on to explain the first and foremost rule to follow while revamping interiors – be it giving a new look to the living room by way of furniture and upholstery or updating the kitchen and bathroom – is to align plans for the house with your way of life.
"A home is not a museum and it should be ready to adapt and assume the inimitable patina of your personality," Erika says.
So, a setting which is unique to you and in which you will immediately feel at ease is the way to go. First to catch the eye once you step into a room is the choice of furniture and the kind of upholstery. While upholstery and furniture chosen depend on individual preferences and tastes, traditional frames mixed with modern fabrics work best. Put simply, vintage items from the 50's,60's and 70's redone in modern upholstery-genuine period furniture or reproduced ones – add character to a room. Leather is a classic favourite and a trend worldwide and never goes out of fashion. In face, weathered leather that has a comfortable feel to it along with new key details of raw edges and turned-out seams gives an old warm charm to interiors.
Casa Forma is an award winning architectural and interior design firm based in London. They have recently won two awards at the 2011 design et al International Design & Architecture Awards. Their projects in India are infusions of London design sensibilities with India-inspired elements, and it is this very distinctive approach that helped them win these two prestigious awards. Whether it's a private residence, corporate space, development, yacht, or private jet, Casa Forma's award winning team of interior designers draws on your lifestyle, personal tastes, and aspirations to help create a truly bespoke luxurious space. Casa Forma can enhance your property through both providing an improved layout that increases the functionality and flow of a space increasing its value intrinsically and commercially.