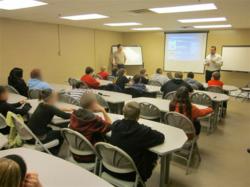 Mentor, OH (PRWEB) April 12, 2012
Roll-Kraft recently hosted its latest student-focused educational event to promote manufacturing careers within the local community.
The company opened its doors and offered high school students the opportunity to tour the Roll-Kraft facility and learn first-hand about the manufacturing environment. Nearly sixty students were involved in tours over a two-day period. The students were escorted through the offices and factory by Roll-Kraft personnel, who described and demonstrated the various steps involved in manufacturing, from computer design, to full production, and finally to seeing a completed product come off the machine. For most of the students, this was their first exposure to the modern manufacturing process, and they found their visit to Roll-Kraft to be a very beneficial learning experience.
Roll-Kraft is a member of AWT (Alliance for Working Together) and worked with the group to coordinate this event. AWT promotes careers in manufacturing to students, and the group is very active in Northeast Ohio in educating students and correcting any old, outdated misconceptions related to jobs in manufacturing. AWT promotes the fact that today's manufacturing process is high-tech, and factories are clean and much better environments than in previous generations. These jobs provide high pay for skilled work and are clearly a viable path to success for the next generation.
The company plans to continue its relationships with several local schools and college groups to engage the youth in events that will encourage them to be excited about becoming involved in manufacturing as a future career choice.
Visit Roll-Kraft's website to learn more about these efforts to promote careers in manufacturing, as well as to learn about current opportunities at Roll-Kraft.
Roll-Kraft is a leading producer of tooling for the tube & pipe and roll form industries. Its headquarters is in Mentor, Ohio, and it maintains other facilities in Frankfort, Illinois (Roll-Kraft Northern), and Ontario, Canada (Roll-Kraft Ltd.). The main phone number is (888) 953-9400 or (440) 205-3100, and the fax number is (440) 205-3110. The company's web site is http://www.roll-kraft.com. For easy and immediate contact with Roll-Kraft that transcends time zones and working hours, the website features Dr. Resolve. Simply complete and submit an on-line form and Roll-Kraft will respond.