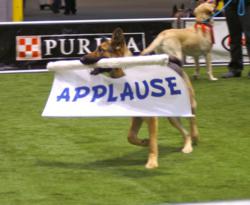 "Promoting healthy relationships & humane training through a holistic approach to the dog-body, mind & soul." Suzanne Clothier
Melrose Park, IL (PRWEB) April 12, 2012
On Saturday, April 28, 2012 Suzanne's topic will be "Understanding the Physical Dog & Effects on Training, Behavior & Performance." This seminar will focus on structure, gait analysis, assessing the dog's balance, flexibility and symmetry. She will discuss how common physical problems and lead to common behavior problems and offer possible solutions. Participants will learn to really see their dog as a physical being, to recognize minor problems before they become big issues, be alert to their dog's strengths and weaknesses, and to understand how some things just might be past what the dog can comfortably do.
On Sunday, April 29, 2012 Suzanne talks about 'Becoming Your Dog's Best Partner.' This seminar will focus on developing good handling skills. Suzanne will work on leash handling, when to reward and toy handling. She will also talk about body and movement exercises meant to improve awareness of the use of space and orientation. Other exercises include breathing/jaw/blink exercises, various games and using hands with awareness; basic energy field work, finding hot and cold areas and dog response. Participants will learn to improve their awareness of their own bodies, body language and orientation and how to use the leash, collar, food and toys with greater skill.
Involved professionally with dogs since 1977, Suzanne's background is widely varied, with experience in breeding, kennel management, grooming, showing, training, canine midwifery, puppy aptitude testing, instructing, behavior consultations, in-home training, K-9 Search & Rescue, holistic health care and various club memberships & activities. She served as a committee member for the American Humane Association's Task Force for the Development of Humane Standards for Dog Training, and as a member of the AKC's Agility Advisory Board. She has taught seminars on a wide variety of topics in the US, Canada, Australia, New Zealand, Japan, Belgium, Holland, and Italy, and spoken for groups as diverse as FEMA Northeast Region Disaster Dog Teams, Alaskan Dog Mushers Association and Wolf Park. She is a frequent & popular speaker at the Association for Pet Dog Trainers' annual conference.
At For Your K9 our focus is on developing and strengthening the bond between people and their dogs. Our approach is based on Suzanne Clothier's unique Relationship Centered Training (RCT). The RCT philosophy matches our goals to promote a relationship of harmony and mutual respect between humans and dogs.
We offer a wide variety of classes and activities that will help your dog become a well trained and enjoyable companion. From puppy hood to serious dog sport competitor, For Your K9 is there to help you enjoy every step of a life shared with dogs.
The For Your K9 vision is humans and dogs truly enjoying their relationship with understanding, caring and love. For more information please contact us at (847) 671-6844.