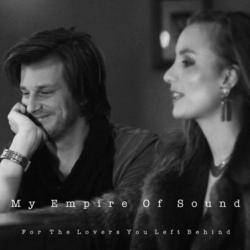 "Like a Swedish-Danish She & Him...the pair complement one another adroitly, ascending to join this year's best and brightest as a result." Musicohm.com
(PRWEB) April 12, 2012
My Empire Of Sound are Swede John Alexander Ericson (Alberta Cross, The Northern Territories, Stjarna) and Sidsel Marie Søholm from Denmark.
The two met in a bar in Berlin only ten months ago, "Sidsel was one of the performers that night and her voice blew me away" says John Alexander. "We started chatting and decided on the spot to start a band together" Two weeks later they started recording in Alex´s studio in Berlin. "On the first session we tracked both Early Morning (A New Beginning) and For The Lovers You Left Behind. Then I knew we were on to something quite special".
John Alexander´s background in electronica shines through but Sidsel definitely puts her own stamp on the songs. There´s (obviously) a very Scandinavian feel to the songs, very pop, but at the same time slightly melancholic. "Someone called it Gospel Electronica" says Alex. "I wouldn´t perhaps go that far, but tracks like Star Waltz, Early Morning and Carry Us Home definitely have a very uplifting feel to them". And then there´s off course Tech Noir....the final track. A six minute analogue orgy of distorted drum machines and synth arpeggios.
"I listen to everything from fellow Swedes Fever Ray and Lykke Li to Jaques Brel, so I guess it´s all in there somewhere", says songwriter John Alexander.
The mini album was written and produced by John Alexander and co-produced by Stefan Sääf.
For The Lovers You Left Behind will be available on iTunes, Spotify and all other major digital stores.
The mini album is already streaming in full on soundcloud here
Watch the official video for Early Morning (A New beginning) here.
For more information, promo copies and press kits please contact: office(at)warsawrecordings(dot)com