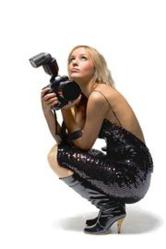 To be able to pull off a certain look and be convincing takes acting skills
London, UK (PRWEB UK) 13 April 2012
With acting abilities and a look to rival the Queen of the Fey, La Mode London sprinkle fairy dust on another teen model dream. We meet Chloe Farenden, a blue-eyed beauty whose modelling portfolio has just been launched live online, thanks to http://lamodelondon.com.
According to the experts at the modelling advice company, La Mode London say to be a model is to be an actor and vice versa. 'To be able to pull off a certain look and be convincing takes acting skills,' said Helen Smith, director for La Mode.' To make a model stand out from the crowd means they need to go one better than the rest, to actually become someone else when they are sashaying down the catwalk. Especially with commercial modelling, a model needs to act the part of another person and do it naturally'. Facial expressions and all the right poses are just as important but if a model can go that extra mile and perform, they will definitely get noticed say La Mode.
Chloe Elise Farenden works with media groups acting in short films, so she's no stranger to performing in front of an audience. She also works with performing arts so is fully able to act her way into a modelling career, and dance as well if it's required.
'I believe I have the looks, body, stamina and self discipline to become a successful model,' Chloe says.' La Mode agrees.
'Chloe can certainly perform, her portfolio went like a dream and her delicate features belie her strong personality. She definitely has great model application' continued Helen.
La Mode say it's great to work with a model for the day because they can really get through the personalities, see where a model's strengths lie.
'This way, we can tailor our model advice to each individual model, offer them all the tips and tricks they need to get started in the modelling business,' said a spokesperson for La Mode. 'No two models are the same and we tailor our advice for each person, each personality. Chloe has got the looks and the acting abilities to really pull off any role she gets asked of her. We wish her all the luck in the world.'
Another modelling portfolio successfully launched by the capital's leading model advice specialists, http://lamodelondon.com.