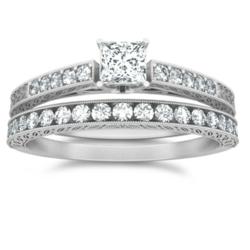 Baltimore, MD (PRWEB) April 11, 2012
There is a variety of options available, when potential customers are looking for wedding sets. There are hundreds of different wedding bands and engagement rings, each available in similar number of different styles, making it very difficult to find an engagement ring and a wedding band pair that would match each other just right. This is why finetresor.com has decided to introduce an exciting new line of wedding sets that is designed to match up perfectly with their coinciding ring.
Bundling products and services has been a standard practice for decades in many industries. The practice is now common in jewelry business also. Finetresor offers beautiful wedding rings and matching bands bundled together at significant discount prices. The one common concern with soon-to-be husbands buying wedding sets, or engagement rings, is whether or not the woman of their dreams will say yes or no to their proposal. This leaves them in potential dilemma to return the wedding sets back to the jeweler. With the Finetresor's new wedding ring sets collection, the set can be returned back to the company for a refund with no questions asked.
wedding ring sets not only makes for excellent proposal rings, but they also make for excellent anniversary gifts. With the new wedding set collection, the husband can show his wife just how much more she means to him. The company has added many eternity wedding set designs, which are symbolic for such an occasion. Finetresor.com is of course keeping just as much focus on their other product lines, from solitaire engagement rings to gemstone rings. The company however sees wedding sets as the future and is even offering sets that include an engagement ring, a band, earrings and a pendant, all for one low price.
Finetresor.com is a leading online jewelry retailer, specializing in retailing diamond engagement rings at affordable and cheap prices. All purchases on the website come with guarantee certificate, with refund policy and lifetime warranty options. Customers interested in looking at the princess cut engagement rings should visit Finetresor.com.