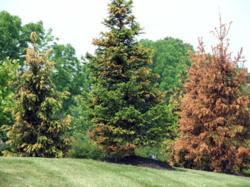 Free Consultations offered to individuals, property managers, business, or others with property damage from use of the Imprelis herbicide. Call Toll Free at (888) 252-0048.
Boston, MA (PRWEB) April 11, 2012
Gilman Law LLP is now evaluating potential lawsuits on behalf of property owners who lost landscape trees to DuPont's Imprelis herbicide. In August 2011, the U.S. Environmental Protection Agency (EPA) issued DuPont a Stop Sale, Use, or Removal Order (SSURO), after Imprelis was found to have killed or damaged thousands of ornamental landscape trees, Norway spruces, eastern white pines, conifer trees, willow trees, poplar trees, deodora cedars, and balsam fir trees. The same month the Imprelis ban and Imprelis recall was announced, DuPont had submitted more than 7,000 adverse incident reports to the EPA involving Imprelis.*
Imprelis herbicide was introduced by DuPont in 2010, and marketed as a more environmentally friendly herbicide than other weed killers. Imprelis was sold only to licensed turf management professionals as an effective way to control broadleaf weeds, including clover, ground ivy and violets. By the spring of 2011, Imprelis had been widely adopted by golf courses, lawn care services, municipalities and other commercial and large-scale users. However, by Memorial Day, lawn care professionals in several states were reporting that some ornamental trees and shrubs near turf areas treated with Imprelis showed browning and dieback weeks after the application. According to an alert issued by the Penn State extension service in June 2011, symptoms of Imprelis tree damage included significant browning of tree tips, as well as drastic loss of leaves or dropping of needles. Curling and twisting of new growth were also observed.**
The EPA began investigating the Imprelis tree damage and death reports in June 2011, after receiving complaints from Minnesota, Indiana, Illinois, Ohio, Michigan, Pennsylvania, Maryland, Virginia, Delaware, Wisconsin and West Virginia. In early August 2011, DuPont announced it would issue an Imprelis recall and stop sales of the herbicide. The EPA issued the SSRO for Imprelis on August 11, 2011.***
Status of The Imprelis Lawsuit
Since the Imprelis recall, property owners throughout the U.S. have filed Imprelis lawsuits seeking compensation from DuPont. Imprelis lawsuits have been consolidated in a multidistrict litigation in U.S. District Court, Eastern District of Pennsylvania and assigned to Judge Gene E. K. Pratter (In re Imprelis Herbicide Marketing, Sales Practices and Products Liability Litigation, Case No. 2284).
How To Receive Compensation For Imprelis Damage
You are encouraged to contact the experienced toxic substance and environmental damage lawyers at Gilman Law LLP if you or someone you know has any of the following Imprelis damage: dead trees, herbicide damage, dying trees, landscape damage, or other property damage. To contact our experienced team of attorneys, please visit the Imprelis Damage Lawsuit Website to complete a Free Imprelis Lawsuit Consultation Form, or call our office toll free at (888) 252-0048.
Gilman Law LLP
Boston, MA
consultations (at) gilmanlawllp (dot) com
*epa.gov/compliance/resources/cases/civil/fifra/dupontimprelis.html
**nytimes.com/2011/07/15/science/earth/15herbicide.html?_r=1&pagewanted=all;
psu.edu/greenindustry/giec/news/2011/some-observations-on-imprelis-injury-to-trees
***epa.gov/compliance/resources/orders/civil/fifra/dupontimprelis-ssuro.pdf