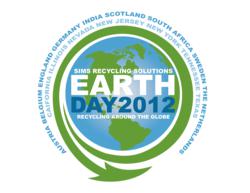 It is 65% more energy efficient to reuse copper than to use copper smelted from virgin ore.
UK (PRWEB) April 10, 2012
Local communities around the world are being urged to participate by clearing out their offices, sheds, lofts, cupboards, warehouses and garages of broken or redundant electrical equipment. They can then bring them along to their local Sims Recycling Solutions Earth Day collection event for recycling completely free of charge. All items will be responsibly recycled and the precious metals and other materials will be recovered and sent to manufacturers to be re-used in making new products.
Sims Recycling Solutions CEO, Graham Davy said: "On Earth Day, over one billion people around the globe will voice their appreciation for the planet and demand its protection. Electrical and electronic waste is the fastest growing waste stream in the developed world, so we urgently need to responsibly recycle more of this waste to ensure it is not sent to landfill or to illegitimate recyclers, where hazardous chemicals can pollute the earth and precious resources are lost forever.
"People may be surprised to learn that one tonne of electrical and electronic waste contains around 100 grams of gold, compared to just 50 grams which are recovered from high grade gold ore which is also a highly energy intensive mining process. Or that it is 65% more energy efficient to reuse copper than to use copper smelted from virgin ore. Even the plastics can be recovered and reused, reducing demand on oil reserves. So it makes complete sense to extract and re-use the gold, copper and other materials that have already been produced, conserving finite resources for future generations."
"We hope that communities and businesses will join us and our colleagues around the globe on Earth Day 2012 by taking advantage of this free recycling service. By doing so, they will be helping us support the planet by properly disposing of their old, broken or unwanted electrical or electronic gadgets and enabling us to retrieve and reuse the valuable metals and other materials."
To find out where and when the events are taking place go to http://simsrecycling.com/earthday2012