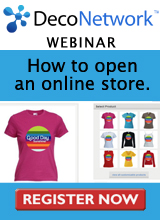 Tampa, FL (PRWEB) April 11, 2012
ColDesi, Inc. and DecoNetwork will be offering a free webinar on Wednesday, April 18th at noon and 5pm EST covering the DTG direct to garment printers in conjunction with DecoNetwork, a website and on-line designer program. The webinar will discuss the latest technology from DTG and DecoNetwork and how you can open an online e-commerce store using DecoNetwork.
DecoNetwork is an e-commerce software platform that gives apparel decorators the tools to provide its customers the ability to custom design their own apparel using the powerful on-line designer. It will show how customers can upload their own artwork or choose from a variety of pre-set designs. The webinar will also share how the program operates, the backend of the software for keeping track of customers orders, quotes and trends in buying and sales history.
ColDesi will talk about the benefits of using the new DTG M-Series with DecoNetwork. They will show how to integrate the online artwork into the DTG M-Series printer for steady print production.
Space for the free webinar is limited. To reserve your seat go to https://www4.gotomeeting.com/register/281899311 . After registering you will receive a confirmation email containing information about joining the webinar. For more information contact ColDesi at 877-793-3278; email sales (at) coldesi (dot) com.