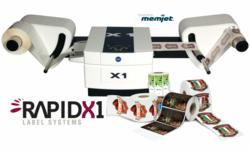 Tampa, FL (PRWEB) April 12, 2012
Rapid Label Systems will introduce its Rapid X1 label printer at the Converting & Packaging Printing (CPP) Expo, April 18-19, 2012 in Cleveland, Ohio. The CCP Expo is geared towards printers and converters promoting innovative solutions, cost-saving applications for the print packaging profession.
The CPP Expo will be held in the I-X Center, Cleveland, Ohio. This premier event produced exclusively for the converting/package-printing marketplace. Rapid Label Systems will be showing the Rapid X1 a full-color digital label printer capable of printing pre-cut and stripped labels at 1600 x 1600 dpi. The Rapid X1 is a roll-to-roll printer with a 5 color print head (CMYK, K) delivering 744,000,000 drops per second through 70,400 nozzles.
The Rapid Label Systems printers allow printers to experience a full label production system at a fraction of the cost compared to current digital label presses and at a production speed that is unrivaled by any ink jet label system. The Rapid X1 prints at up to 60 feet per minute and is available for under $20,000, making it one of the fastest, low cost full color label printers available in the market. It really makes label printing an extremely attractive ROI for a wide range of businesses, whether it be in-house printing or print-for-profit.
Rapid Label Systems invites printers to stop by booth 520. Register today and the first 100 customers will receive free registration complimentary of Rapid Label. Simply register online at http://www.cppexpo.com/?source=12RAP. For any further questions regarding the Rapid X1 call toll-free 877-450-1238.