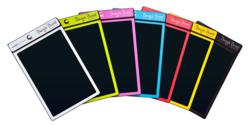 It has been remarkable to experience firsthand how state support for a small innovation company like Improv Electronics can positively affect so many others within the region.
Kent, OH (PRWEB) April 10, 2012
Improv Electronics announced today that the Boogie Board eWriter was selected February 'Product of the Month' by the Learning Express Toys location at Crocker Park in Westlake, Ohio. Learning Express is a U.S.-based educational toy retailer that offers high-quality, unique and educational toys online and through its network of 140 independently-owned store locations throughout the country.
Boogie Board eWriters are the tree-friendly, electronic alternative to paper. They are rapidly gaining popularity in the specialty toy and education markets as an eco-friendly, cost-effective and fun learning tool for children and students of all ages.
"We believe in educational toys and products that foster kids' creativity and encourage learning, but first and foremost we believe in fun," said Mark Caston, owner of the Learning Express Toys Westlake location. "Children find the Boogie Board eWriter irresistible. It really brings out their creativity. And they would much rather do learning activities on a Boogie Board eWriter than paper, which is good for the environment, too. But most of all, we love Boogie Board eWriters because they cater to both parents and children. You can give one to the kids to draw and doodle mess-free, and also keep one for yourself so those crinkled sticky notes don't pile up on your desk!"
The tremendous success of Boogie Board eWriters, a product developed and manufactured in Kent, Ohio, parallels the efforts of Flexmatters, an initiative formed by Nortech to recognize the emerging flexible electronics cluster in the Northeast Ohio region. Dr. Albert Green, CEO of Improv Electronics and its parent company Kent Displays, is chair of the Flexmatters steering committee.
"The State of Ohio's investment in Improv Electronics/Kent Displays and the cluster has come full circle and truly paid off," said Green. "It has been remarkable to experience firsthand how state support for a small, innovation company like Improv Electronics can positively affect so many others within the region. We received state funding to research, develop and mass-manufacture flexible LCDs used in Boogie Board eWriters, which are now available for purchase in Learning Express Toy stores in our own backyard — and at other retailers in nearly 30 countries around the world. State funding has helped us, other cluster members and retailers like Learning Express Toys to be successful and accelerate growth, stimulating the Ohio economy and creating jobs in the state."
A second Learning Express Toys location in Ohio also sells Boogie Board eWriters. The store is in Strongsville at the Southpark Mall. In total, over 80 Learning Express Toys locations sell Boogie Board eWriters.
About Boogie Board eWriters
Improv Electronics introduced Boogie Board eWriters in January 2010 with the Boogie Board 8.5 eWriter as a paperless replacement for memo pads, sticky notes, scratch pads and other writing and drawing mediums. High global demand immediately followed. Eight colors were added in January 2011. In June 2011, several additional Boogie Board models and accessories were launched including the Boogie Board 10.5 eWriter, Boogie Board 8.5 eWriter for Binders, and the Boogie Board Message Center. At the same time, a custom design of the original Boogie Board 8.5 eWriter available exclusively through Brookstone was introduced.
The Boogie Board Rip eWriter's ability to record and save notes/images makes it the ideal paperless replacement for paper notebooks, legal pads, and sketch books. It includes the following features:

Internal memory for 200 typical images
High resolution, vector PDF format (nearly infinite scalability; editable in Adobe® Illustrator®/Photoshop® and most other popular illustration and image editing programs)
9.5" writing surface (measured diagonally)
Micro USB port
Thin, durable and lightweight construction
Integrated stylus holder (stylus included)
Erase lock button
Rechargeable batteries with one week between charges under typical use
About Improv Electronics
Improv Electronics was formed in 2010 as the consumer products subsidiary of Kent Displays. Founded in 1993, Kent Displays, Inc. is a world leader in the research, development and manufacture of Reflex No Power LCDs for unique, sustainable applications including electronic skins, eWriters, smartcards and eReaders.

Go to Improv Electronics for more information about Boogie Board eWriters
Download the Improv Electronics Media Kit
Request review samples from Kevin Oswald, Communications Director, at 330-673-8784 x161 or koswald(at)kentdisplays(dot)com.
Boogie Board, Boogie Board Rip, Reflex and Improv are trademarks of Kent Displays, Inc.
Adobe, Illustrator and Photoshop are trademarks of Adobe Systems Incorporated
About Learning Express
Learning Express is the nation's leading franchisor of educational toy stores with more than 140 locations across the country, each one locally owned and operated. Learning Express provides an extraordinary shopping experience with knowledgeable sales staff who can offer expert advice on choosing the perfect toy, for every child, for every occasion. The Learning Express product mix is carefully selected from manufacturers around the world and each toy has exceptional play value. A birthday gift registry, free gift wrapping, free personalization, civic fundraising, and customer VIP programs make each Learning Express store an integral part of its community.
For more information, interview requests, and media inquiries, please contact Kathryn Blanchflower at 978-889-1087 or at kathryn(at)learningexpress(dot)com.