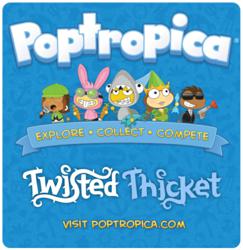 Kids love a great mystery – especially one featuring magical and mythical creatures and surprises at every turn
Boston, Mass. (PRWEB) April 11, 2012
Poptropicans will venture deep into the woods, encounter fabled creatures and embark on a wild adventure with tomorrow's launch of Twisted Thicket, the site's 26th Island. On April 12, Early Access to the Island is available to Members, who also receive a special gear pack and access to the bonus quest once they've completed the adventure. Twisted Thicket will launch for the public later on May 2.
When Poptropica players enter Twisted Thicket, they will discover a quiet seaside village that has been attacked by mysterious beings who dwell nearby. Players are chosen to enter the dark woods and confront the creatures, but beyond the forest's edge is a world of magic and danger – where the only thing more twisted than the tree trunks is the truth. While on their adventure, Poptropicans will encounter enchanted creatures, such as trolls, elves and goblins.
"Kids love a great mystery – especially one featuring magical and mythical creatures and surprises at every turn," said Jess M. Brallier, publisher of Poptropica. "That's what they will find when they log in to play Twisted Thicket on Poptropica. And, as always, parents can trust that their kids are playing in a safe, secure online environment."
Poptropica Members also receive an additional Twisted Thicket Gear pack, which includes a Troll Costume and Power, a Dryad Follower and, for a limited time during Early Access, a Lumberjerk Costume. Plus, Members who complete Twisted Thicket will gain access to a special bonus quest in which they must use the powers of the woodland creatures to recover the shards of a mysterious artifact. Parents can buy Poptropica Memberships for their kids in one-, three- or six-month increments.
Named as one of TIME magazine's Top 50 websites of 2011, Poptropica's Islands have been visited by more than 220 million kids worldwide since its launch in 2007. Players come from more than 130 different countries and have their web browsers set to more than 100 different languages, ranging from Spanish and Sanskrit to Vietnamese and Croatian. All Poptropica Islands are free to play, and each represents a unique theme and challenge.
Kids can stay up to date on news about upcoming new Islands and other exciting developments in the world of Poptropica on the official blog at http://blog.poptropica.com/.
About Poptropica (http://www.poptropica.com)
Poptropica is a virtual world in which kids explore and play in complete safety. Every month, millions of kids from around the world are entertained and informed by Poptropica's engaging quests, stories and games.
Kids create a "Poptropican" character to travel the many Islands of Poptropica and use gaming literacy to enjoy a narrative that is often rooted in factual history. Problem-solving skills are honed as kids discover and solve mysteries unique to each Island.
There are always new areas to explore in this ever-expanding world where kids can collect objects, read digital books and comics, watch movies, and compete in head-to-head competition. Parents can always trust that their children are playing – and learning – in a safe online environment.
Poptropica is published by Family Education Network, a part of Pearson, the education, services and technology company. Pearson's other primary operations include the Financial Times Group and the Penguin Group.