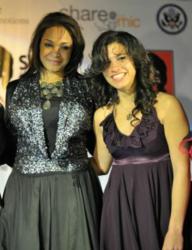 This is the second wave of the Egyptian revolution. ~Maiysha
Cairo, Egypt (PRWEB) April 12, 2012
Grammy nominated singer-songwriter Maiysha (http://www.maiysha.com) has returned to the US after traveling to Egypt to advocate for women's rights. Through a cultural diplomacy program sponsored by the U.S. Embassy in Cairo, she helped some of Northern Africa's most talented vocalists take a brave and historic step: singing in public. In some parts of the region, women are not only discouraged from singing; it's considered blasphemy.
Through a widely publicized competition called "Sing Egyptian Women," dozens of talented vocalists have fearlessly raised their voices in song. The cultural diplomacy program was created by ShareTheMic™ (http://www.sharethemic.com), a New York-based non-profit organization that provides performers to advocate for causes around the world. For this women's rights program, Impact Branding connected them with Maiysha.
On Thursday, April 5, Minneapolis native Maiysha conducted a roundtable discussion with the finalists of the groundbreaking women's vocal competition. She applauded them for courageously asserting their right to be heard as artists and for inspiring women throughout the region.
"I am honored to share my music and professional journey to help women in Egypt learn how to leverage their voices and live their dreams," said Maiysha, a former New York City elementary school teacher who enjoys working with budding artists. Maiysha has been a featured mentor on MTV's hit show "Made" and works with young musicians through ASCAP- and Grammy-sponsored programs. She is a Ford Model and Sarah Lawrence College alum.
At the culminating celebration atop the roof of the Fairmont Nile City, Maiysha and the finalists performed a variety of songs before she announced the young woman who had captured more votes than her competitors: 22-year-old Nathalie Alain of Alexandria. The contest attracted hundreds of thousands of votes on Facebook. As the grand prize winner, Ms. Alain will be flown to New York, where she will work in a studio with Maiysha and ShareTheMic™ to record her music.
The competition began in November 2011 with 40 contestants. For more information on the U. S. State Department's involvement in "Sing Egyptian Woman," visit http://egypt.usembassy.gov/pr111811.html.
About ShareTheMic:
ShareTheMic leverages the power of advocacy with music performers who wish to raise awareness and funds for humanitarian causes through volunteerism and activism.
This is achieved in two fundamental ways: 1) by conceptualizing and designing simple long term strategic marketing program with a focus on audience growth, fundraising options, and sustainable cultural diplomacy benefits to effectively follow each music group(s) and sponsor relationship throughout its cycle; 2) by seeking out and discovering up-and-coming music artists and partnering them with specific cause organizations and inviting them to collaborate in designed, managed and supported media campaigns. STM collectively promotes the cause objective to a national and international youth-engaged audience.