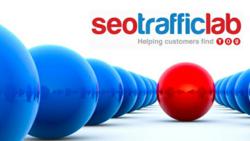 After just three months we have seen an increase in traffic of 700% and an increase in business of 300%
(PRWEB UK) 12 April 2012
SEOTrafficLab are pleased to announce the completion of a successful three month SEO Lincolnshire project, with local-based company, Fireplace Mega Deals. The initial three month review has highlighted some positive results for the fireplace firm, in a relatively short space of time, paving the way for a good relationship in the near and distant future.
The local fireplace firm have over twenty years' experience within the fireplace and fire industry, but have previously failed to create sparks with other internet marketing campaigns. A move to online sales, via an ecommerce website proved to be difficult and produced bad experiences in the past. Considering the recent disappointments with their online ventures, it is perhaps then understandable that the company initially had concerns and reservations about search engine optimisation.
However, the team at SEOTrafficLab were at hand to put their minds at ease and initiate a three month search engine optimisation project. The timing of this business relationship couldn't have come at a better time for either company. SEOTrafficLab have recently made the decision to alter their core focus to e-commerce SEO, with the view that ecommerce websites are continuously growing and becoming more of a necessity to businesses across all sectors. Fireplace Mega Deals required help with their internet promotion and ecommerce website, thus making this the ideal time for a great business relationship.
The three month review has not disappointed the local Lincolnshire company as they are delighted with the results they have received. The various SEO techniques, carried out over the three month period, have successfully improved their search engine ranking and increased the amount of activity on the website. Russell Pearson, Managing Director of Fireplace Mega Deals, was overjoyed with the outcome.
"After just three months we have seen an increase in traffic of 700% and an increase in business of 300%"
These figures are evidence of the kind of progression business websites can make with e-commerce SEO techniques and campaigns. The initial uncertainty surrounding search engine optimisation is now undoubtedly quashed with the Lincolnshire fireplace company as they hope to keep advancing with SEOTrafficLab. Both companies are looking forward to a positive future relationship and hope to continue mirroring the progression already established.
With the objective of improving their business further, the SEO work will continue for another twelve months. So for the next year at least, the horizons are looking bright for SEOTrafficLab's quest into ecommerce search engine optimisation.
About SEOTrafficLab
SEOTrafficLab is a Lincolnshire based SEO company, committed to raising awareness of clients' business websites. The intention of their search engine optimisation work is to target appropriate potential customers, whilst increasing the visibility and activity on business websites.
Specialising in UK search engine optimisation, SEOTrafficLab are particularly renowned for their SEO campaigns within the Lincolnshire area; making them a market leader for local SEO projects. E-commerce SEO is also an area of expertise for the company, with a wealth of experience helping to develop e-commerce websites.