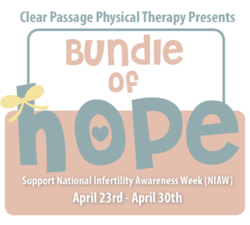 (PRWEB) April 18, 2012
Over 10 million people in the U.S. suffer the devastating effects of infertility. To help some of them and to bring awareness to this often-neglected issue, Clear Passage Physical Therapy® will hold a social media campaign and giveaway called Bundle of Hope. The promotion will coincide with RESOLVE's National Infertility Awareness Week (NIAW), April 22 to 28, 2012.
Three winners will be selected daily to receive a copy of Miracle Moms, Better Sex, Less Pain: The Clear Passage Story, written by founders Larry and Belinda Wurn, PT, with a foreword by Christiane Northrup, MD. At the end of NIAW, three grand prize winners will be selected to receive the Bundle of Hope gift basket. Valued at more than $150, the basket includes a collection of books on infertility-related topics, a meditation CD and a bottle of Philosophy's Jar of Hope moisturizer. All winners will receive 10 percent off (a $520 value) of a series of therapy at any Clear Passage clinic in the U.S.
"Our success working with infertile couples has shown us that there is hope, despite the immense physical and emotional difficulties associated with infertility. We are excited to leverage the power of social media to foster a sense of community for women and couples who have struggled with conception," said Belinda Wurn, PT, national director of services at Clear Passage.
Participants can enter the giveaway by submitting an inspirational quote or their own words of wisdom that help them cope with the difficulties of infertility. They can enter through Clear Passage's Facebook page, and/or on Twitter, using the hashtags #NIAW and #bundleofhope. Those interested in participating can visit http://www.clearpassage.com/blog/bundle-of-hope-giveaway/ for more details.
Clear Passage Physical Therapy® is a growing network of physical therapy clinics offering a five-day hands-on therapy. Its therapists use the non-surgical and drug-free Wurn Technique® to help women overcome infertility naturally, to improve IVF success rates, and to relieve pelvic, endometriosis and intercourse pain. Studies on its results with all of these conditions have been published in some of the world's most prestigious medical journals. Initially named for its documented ability to open completely blocked fallopian tubes, the work at Clear Passage clinics has shown positive results with various types of female infertility.
About Clear Passage Physical Therapy
Clear Passage Physical Therapy® is a network of high quality physical therapy clinics specializing in hands-on treatment of women's health conditions, adhesions and chronic pain. Clear Passage treats patients from all over the world, approximately 20 percent of whom are healthcare professionals.
Clear Passage was co-founded by Larry and Belinda Wurn, PT a husband and wife therapy team. It was born from Belinda's own personal experience with adhesions and the couple's quest to bring her relief from debilitating pain after pelvic surgery.
About the Wurn Technique®
The Wurn Technique® is a hands-on manual soft tissue therapy developed to treat the adhesions that often accompany female infertility, pain, endometriosis, intercourse pain and small bowel obstruction. This therapy is practiced exclusively at Clear Passage Physical Therapy® clinics and has been featured in some of the world's most prestigious medical journals.