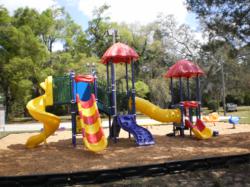 BYO Recreation is a great company; our playground is one they can be proud of.
(PRWEB) April 10, 2012
BYO Recreation recently completed a playground project for Philadelphia Baptist Church, located in McAlpin, Fla. The church along with BYO's playground designers transformed the recreation space that was available with custom playground equipment, spring riders, see saws and a swing set. The resulting playground has now become a focal point of the church, which is visible from the road, drawing families and children in.
Providing superior service for their customers, BYO Recreation strives to make every customer experience positive. BYO playground consultant Chris Woodward helped Robin McMullen, Children's Coordinator at Philadelphia Baptist Church, create the perfect playground that positively impacts the church family and surrounding community.
"Other than the final product, I was most pleased with the service. It made the entire project very easy and enjoyable, it was fun. I'd do it again," McMullen said. "I made numerous changes to the original design, so the fact that Chris always answered my questions in a timely manner was great. I know he had other customers but he made us feel like we were his only customer. He offered his cell phone number and even said to call on the weekends if I had a question."
The final design of the playground features the colors of faith and includes a custom sign that explains each meaning. According to McMullen, the playground will act as an important ministry tool, not only drawing people into the church but also teaching children the meaning of the colors of faith while they play. McMullen used her creativity to envision the playground and BYO brought her vision to life.
"The Philadelphia Baptist Church playground project was very memorable and truly a pleasurable experience," Woodward said. "Robin's creativity was inspirational. She had some wonderful ideas that were exciting to see come together. This playground is not only fun for children but is also meaningful to the church community."
The playground is for children aged two to 12 and was designed with custom panels that include faith-based content. The playground and swing set area totals 4,066 square feet, allowing many children and families to enjoy the church's new recreation space. The transformation of this area became a reality through the collaborative effort of the church and BYO Recreation.
"One thing that impressed me was that before we decided to go with BYO, Chris came to our church, looked at our site and measured out the area to make sure the design I wanted would fit. That is one thing that sold me on BYO," McMullen said. "BYO Recreation is a great company; our playground is one they can be proud of."
For more information about BYO Recreation, call (800) 853-5316 or visit http://www.byoplayground.com.
About BYO Recreation
Headquartered in St. Augustine, FL, BYO Recreation is one of the most comprehensive and fastest growing recreational equipment suppliers in the world. Since 1999, the company has helped thousands of schools, churches and communities create recreational spaces that are truly Beyond Your Ordinary. For additional information about BYO Recreation, visit http://www.byoplayground.com.