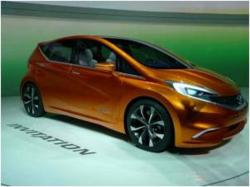 London (PRWEB UK) 12 April 2012
It follows the news at last month's Geneva Motor Show that Sunderland will also produce a mainstream B-segment compact car based on the INVITATION concept (above) from next year, when the LEAF electric car is also introduced to the assembly lines and a battery manufacturing plant will be fully operational on adjacent land together with a specialist academy for the new technology.
The new medium hatchback announced today has not yet been named and will create an additional 225 jobs at Nissan and 900 at component companies supplying Nissan in the UK. Combined, both models will result in more than 3,000 new jobs being created in the UK automotive sector within the next two years – 625 at Nissan and the remainder across the supply base.
LEAF will be made on the Qashqai lines and some of these will be transferred to Russia by 2014 to help meet a 66pc jump in orders for the model there and to overcome harsh import tariffs.
Once recruitment for both models is complete, the Sunderland Plant workforce will stand at a record 6,225 supporting an overall annual plant volume of more than half a million units.
The Nissan business car news comes as workers in Honda's operation in Swindon resume full operations after what the Japanese company's European chief described as a "very difficult year" in 2011 when it had to halve output due to severe shortages in the Far Eastern supply chain caused by components companies devastated by the spring tsunami. This is also excellent company car news for fleet managers who will have better supplies and wider choice available to them.
Source:
Business Car Manager: http://www.businesscarmanager.co.uk