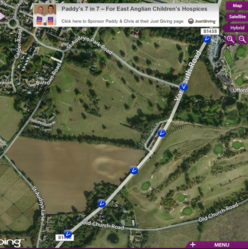 Kno-Where are adding a new dimension to sponsored events and making them more interactive for the organisers and supporters.
Ipswich, Suffolk, U.K. (PRWEB UK) 13 April 2012
At last - with Kno-Where mobile tracking can get any charity event on the map - literally.
For anyone planning sponsored a charity bike ride, run, mountain climb or any event that involves getting from Point A to point B they should take a look at Kno-Where mobile phone tracking from Panaramix.
With the ability to accurately plot the location of Nokia, Android and Blackberry smartphones anyone can login online and see exactly where a participant or team is as well as their route up to that point.
A conveniently placed 'banner ad' linked to the events Just Giving page makes the most of this extra level of interactivity by making it easy to sponsor the event direct from where the action is being followed - an event mini site within the Kno-Where website.
The first event to benefit from Kno-Where's mobile tracking is a series of 7 marathons being run in 7 days called 'Paddy's 7 in 7' in aid of children's hospices closely followed by 'The Great Xscape' being held in aid of St Elizabeth's Hospice in Ipswich.
This latter event involves blindfolding 30 teams and dropping them off somewhere in the wilds of Suffolk. With only a compass and an 'emergency only' mobile (with the Kno-Where mobile tracking software installed) they have to make their way back to a pre-agreed venue.
This year the progress of each team can be viewed in near real time with mobile locations updating every minute. Those at the event can follow the action on a giant screen as the teams make their way back to base with those unable to attend able to login online and be enjoy the event too.
Panaramix usually provide their Kno-Where mobile tracking to family and business customers in the UK. Having been approached to support these initial local events word is already spreading and the company are expecting to hear from more and more organisers wanting to increase the exposure and interactivity of their own event.
Panaramix are offering this service free to charitable events and will even create a banner ad to link to donation pages. For organisers without access to suitable smartphones for mobile tracking and/or SIM cards the company have made a fleet of smartphone devices available to lend out to bona fide events at no charge.
About Panaramix
Panaramix specialises in mobile tracking software and services. Providing branded products to distribution partners as well as via their own Kno-Where brand throughout the U.K.
Family mobile phone tracking, although popular in the U.S and other parts of the world is still in its infancy in the U.K. As smartphone penetration continues to increase dramatically Kno-Where is positioned to offer parents some peace of mind by being able to see the locations of their family's mobiles online.
In addition to mobile tracking the business version of Kno-Where allows companies to send and update job details to their employees mobile phones in real time. Providing multiple efficiencies to all types and sizes of business Kno-Where does so simply and at very low cost.