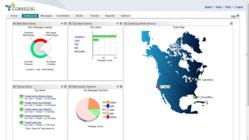 CorreLog has eased the burden somewhat by providing a multi-platform, web-based event correlation engine...
Naples, FL (PRWEB) April 10, 2012
CorreLog, the leader in software solutions for IT security event correlation, today announced it has received an excellent SIEM rating from SC Magazine, keeper of the IT security industry's most extensive collection of product reviews. Each year SC Magazine rates IT security software products from a variety of criteria including features, ease of use, performance, documentation, support and value for money. The magazine then issues an overall score based on a weighted average of the six criteria. For Correlation Server version 5.1.0, SC Magazine gave CorreLog an overall rating of 4.5 stars out of a possible 5 stars total.
"We are very pleased to be rated so highly by the leading publication in our space," said George Faucher, CorreLog CEO and founder. "In working with customers and leading IT security analysts, we identified and implemented several enhancements in this latest version (5.1.0) and it feels great to be recognized for this ongoing work."
SC Magazine touted the information available from CorreLog at the fingertips of managers charged with securing corporate IT networks and praised CorreLog 5.1's integration to Microsoft Excel, offering flexible reporting capabilities. The IT security publication also applauded CorreLog's straightforward and simple approach to deployment, a key market differentiator for CorreLog.
"Network managers have their work cut out for them," added Faucher. "CorreLog has eased the burden somewhat by providing a multi-platform, web-based event correlation engine to fight cyber-threat that's quick to deploy and easy to set up and navigate."
SC Magazine sandboxed CorreLog's Small Business Server edition on a virtual desktop PC. They used a CorreLog-packaged copy of Apache SSL Server to deliver the web console. To read the CorreLog Correlation 5.1 review on SC Magazine, click here.
About CorreLog:
CorreLog, Inc. is the leading independent software vendor (ISV) for IT security log management and event correlation. CorreLog's flagship product, the CorreLog Enterprise Server, combines log management, Syslog, Syslog-NG, SNMP, auto-learning functions, neural network modeling, proprietary semantic correlation, automated help-desk ticketing and reporting functions into a unique multi-platform security solution. CorreLog Enterprise Server operates across Windows, UNIX, Linux and mainframe platforms, shipping with an out-of-box PCI DSS compliant CorreLog agent for IBM z/OS, the world's most popular mainframe operating system.
CorreLog delivers an essential viewpoint via dashboard console, providing verifiable and actionable information on the activity of users, devices, and applications to proactively meet organizational SLAs and regulatory requirements. Additionally, CorreLog automatically identifies and responds to any suspicious behavior, network attacks, or policy violations by indexing and correlating user activity and event logs, then archives the data in an enterprise server system location. This allows customer organizations to quickly identify then proactively respond to compliance violations, policy breaches, cyber-attacks and insider threats. For auditing and forensics, CorreLog facilitates regulatory requirements set forth by PCI DSS, HIPAA, SOX, FISMA, NERC, NCUA, and many other standards. CorreLog markets its solutions through both direct and indirect partner channels.