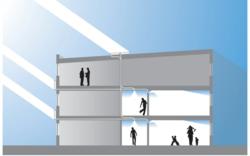 Replacing artificial light with natural light is proven to increase productivity by 16% and lower overall carbon emissions.
Maine, U.S.A. & Sweden (PRWEB) April 10, 2012
Wasco Skylight Products Inc. announces an exclusive agency relationship with Parans Solar Lighting AB to market and sell Parans' pioneering sunlight system solutions for office and home environments.
This new relationship and revolutionary technology will be showcased at the Wasco exhibit at LIGHTFAIR 2012, the world's largest annual architectural and commercial lighting trade show and conference. Attendees will see and learn firsthand how fiber optics can effectively track and capture the sun to deliver full spectrum natural light to inside environments.
Wasco has worked on solutions for sun lighting for over 75 year and understands the importance of the sun's impact on health and wellness. Replacing artificial light with natural light is proven to increase productivity by 16% and lower overall carbon emissions.
"This agreement with Parans is a strategic next step for our company and will broaden our extensive range of solar and daylight solutions available for commercial and residential installation," said Jeff Frank, CEO of Wasco. "Parans is the world leader in developing this innovative technology and we look forward to bringing the products to the U.S. market."
For more information about this new partnership and the new SP3 product, visit booth #5316 May 7th – May 11 at the Las Vegas Convention Center, Las Vegas, NV.
About Wasco Skylights
Headquartered in Wells, Maine, Wasco Skylights is a leader in bringing the outside in, providing a full line of commercial and residential skylight solutions for standard or customized installations. With a focus on ease of installation, Wasco is known for its extensive product line, innovative and customized designs with reliable long-life performance and overall value. For more information call 800-388-0293 or visit http://www.wascoproducts.com.
About Parans
Parans, one of Sweden's 12 most important climate innovators offers sunlight for indoor environments through an innovative system that captures and directs the rays of the sun. It allows you to get natural sunlight in every room: receiver on the outside, cables that transport the light through the property and luminaries that spread the light inside. Through Parans system you get the perfect lighting experience where you work, learn and live. For more information: Nils Nilsson, Parans Solar Lighting AB Kämpegatan 4C, SE-411 04 Gothenburg Sweden Tel: +46 31 20 15 90 Fax: +46 31 20 15 84 Email: info(at)parans(dot)com.