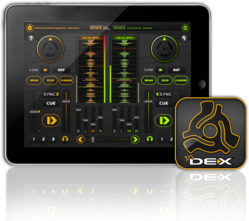 "DJ DEX is not a DJ game or gimmick, it's the real deal" says Digital 1 Audio's Product Manager, Ryan Sherr. "
Clearwater, FL (PRWEB) April 11, 2012
"DJ DEX is not a DJ game or gimmick, it's the real deal," says Digital 1 Audio's Product Manager, Ryan Sherr. "We made it our mission to include features that seasoned DJ's and hobbyists can really use and rely on in a live mixing environment, leaning on our 13 years of experience in the Pro DJ software field. You can easily sync the beats of two tracks with the press of a button, grab the on-screen waveform and scratch, spin and tweak. You can really make the music your own, even drop in effects to add that extra layer of excitement to your mix. With a very high resolution GUI, DJ DEX looks brilliant on the new iPad with Retina display, it's candy for your fingertips. While I don't expect DJ DEX to replace high-end DJ software solutions such as our PCDJ DEX 2 any time soon, the App would allow a DJ or Hobbyist to easily tackle most gigs - from backyard sessions with friends, to small bar or club events. We're really excited to bring DJ DEX to the masses via iTunes."
Here are some of the notable features included in DJ DEX:

2 DJ DECKS and a Mixer
Split headphone cuing (using splitter cable)
Hands-on manual mixing or hands-free automation
Pitch/Tempo Control
BPM Snap-To-Beat Mixing
Seamless quantized looping
Automatic Beat-Grid based BPM detection
High-Quality effects (Break, Flanger, Echo)
Interactive waveforms that allow you to scratch, pitch bend, reverse play, backspin, etc
iTunes library browsing and search
3 hot cues can be set per deck, with cue-play
MotionPlaying™ - place your iPad on a turntable and scratch any song (requires an iOS device with a gyroscope - like iPad 2, the new iPad)
Numark DJ2GO and Akai LPD8 controllers supported (no configuration needed, but you do need the iPad Camera Kit connector)
Many settings and built in help
DJ DEX is available in iTunes now at an introductory price of $9.99.
Click below to buy via iTunes:
http://itunes.apple.com/app/dj-dex-the-dj-mixing-app/id514748680?mt=8
For more product information please visit:
http://www.djdexapp.com
For marketing or other inquiries please contact:
Digital 1 Audio
611 S. Ft. Harrison Ave., #317
Clearwater, FL 33756
727-799-3828 ext 105
Since 1999, Digital 1 Audio/PCDJ has been recognized as a leading developer and manufacturer of DJ and Karaoke live performance software. Tens of Thousands of mobile and professional DJs around the world now spin with their computer using one of company's entertainment products.