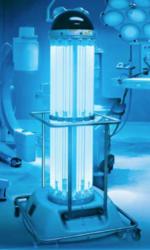 "Every patient has a choice in healthcare facilities. We're helping to make that choice easier by integrating Tru-D and improving the quality of healthcare for our patients". Gary Shorb, CEO
Memphis, TN (PRWEB) April 11, 2012
Methodist Le Bonheur Healthcare is the first Mid-south hospital system to integrate Tru-D SmartUVC™, an advanced environmental ultraviolet disinfection system into its daily cleaning protocols. This adds an important layer of protection against multi-drug resistant pathogens that cause infections.
Health care facilities are faced with germs that have become increasingly resistant to antibiotic therapies. TRU-D generates a specific dose of ultraviolet-C energy, which kills germs on surfaces. According to hospital officials, this significantly reduces the risk of patients developing healthcare-associated infection.
US Hospitals have seen an increase of Clostridium difficile (C.diff) colitis cases, replacing MRSA/Staph as the number one cause of healthcare associated infection in some states. C.diff spores are long-lived and resistant to many chemical cleaning methods. C.diff infections cause inflammation in the colon and can be life-threatening. Data from a recent Emory University study revealed that the average C.diff infection increases the cost of a hospital stay by about $14,000*.
The rate of C.diff cases at Methodist decreased by more than 40% after Tru-D Environmental Disinfection trials began in July 2010, and even more with continued use. "C.diff reduction had an immediate, positive impact in our commitment to excellence, with improved patient outcomes and a reduction in hospital stays." said Chuck Lane, Methodist CFO.
Hospital administrators calculated the payback on the purchase of its first Tru-D system to be only 28 days, immediately improving the hospital's bottom line. Based on those findings, additional Tru-D units are being acquired and rapidly deployed at additional Methodist Le Bonheur Healthcare facilities.
"We want our patients to have the safest hospital experience we can provide. Tru-D's advanced, environmentally friendly germicidal disinfection system has moved cleaning of rooms and equipment to a higher level than we have been able to achieve through manual, chemical cleaning," said Julian Serrano, Methodist's director of housekeeping.
Catherin Murphy, Director of Patient Care/Nursing, said Methodist Healthcare's hospital-associated infection rate is already well below the national average; even so, "We must be proactive. Tru-D adds an important layer of protection against these newer, drug and chemical-resistant pathogens."
Methodist's President and CEO, Gary Shorb, challenges his staff to provide the highest level of healthcare possible. Infectious Disease Physician, Dr. Bryan Simmons and his team of Infection Preventionists researched claims of several emerging disinfection technologies before choosing Tru-D.
"We looked at a number of methodologies. Tru-D, with the unique SmartUVC™ technology, was the only ultraviolet disinfection device supported by multiple, independent peer-reviewed studies. These studies gave us the confidence to invest in this advanced level of environmental disinfection. Tru-D's SmartUVC™ disinfection will insure ongoing improvements in patient safety and quality of care," Simmons said.
Tru-D is a mobile, automated cleaning system using SmartUVCTM to break apart the DNA of bacteria, virus and spores and render them harmless. Clinical research has shown more than a 99.9 percent reduction of C.diff spores in patient rooms using Tru-D's patented Sensor360TM array that automatically calculates the lethal UV dose required for each room. This automated system overcomes human errors such as missed and difficult-to-reach surfaces, recontamination and improper chemical applications.
"Every patient has a choice in healthcare facilities. We're helping to make that choice easier by integrating Tru-D and improving the quality of healthcare for our patients" stated CEO Gary Shorb.

Prevention of Cross Transmission of Microorganisms Is Essential to Preventing Outbreaks of Hospital-Acquired Infections, David Schwegman, MD, Assistant Professor of Medicine, Emory University