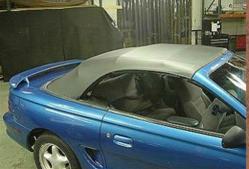 Sunroofs and convertible tops are a stylish way to keep cool and enjoy the summer heat.
Buffalo, NY (PRWEB) April 12, 2012
With the Western New York winter breaking, summer is creeping nearer and nearer. Casullo's Automotive of Kenmore, New York wants you to be prepared to fully enjoy what promises to be a the perfect summer for a new sunroof or convertible top. Sunroofs and convertible tops are a stylish way to keep cool and enjoy the summer heat, and Casullo's is offering discounted rates on new convertible top installations before the summer really heats up.
Experts are predicting this summer to be dominated by the residual effects of La Niña. This change in Pacific weather patterns will cause the United States, especially the Northeastern states, to experience some fairly mild temperatures with a noticeable lack of precipitation. Car enthusiasts will note that this is perfect convertible driving conditions. Mild precipitation will ensure optimal convertible use, while the lower temperatures will lessen the need for more extreme temperature management solutions such as extensive air conditioning use which costs both gasoline and quality of air.
Casullo's Automotive is offering to repair or replace your convertible top in time to truly enjoy this summer's weather. Featuring custom service, tops, and upholstery, Casullo's skilled technicians can match color, material, and style in your convertible top repair or replacement. Along with the convertible top repair services, Casullo's is also offering sunroof repair and installation for all kinds of styles from manual to electric.
For a limited amount of time, and to ensure that each of their customers can thoroughly enjoy the benefits of a sunroof or convertible top, Casullo's is offering the installation services of one of their expert technicians at a discounted price of $100 off of installation fees.
About the Company
Casullo's Automotive has been serving the Western New York area with the best quality automotive service and accessories. It is a privately owned and operated company that has been an annual recipient of AAA's Top Shop Award since 2001 for Performance and Customer Satisfaction. All Casullo's Automotive technicians are ASE certified and are constantly receiving supplemental training on the newest makes and models. Their shop philosophy is to treat each car on the individual basis that it deserves, and high quality of product. For more information on convertible tops or sunroofs visit Casullo's Automotive website, or visit their garages at:
Casullo's Automotive Service Department
2783 Elmwood Ave Kenmore, NY 14217
Tel: 716-876-3567

Monday-Friday: 8:00 AM to 5:00 PM
Saturdays: 8:00 AM to 1:00 PM
And
Casullo's Truck & Auto Accessories
2797 Elmwood Ave Kenmore, NY 14217
Tel: 716-876-0916

Monday-Friday: 8:00 AM to 5:30 PM
Saturday: 8:00 AM to 1:00 PM