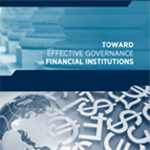 G30 Chairman Jean-Claude Trichet said, "The paramount aim of our new report is to promote changes in governance behavior, which demands changing the ways in which people think."
New York, New York (PRWEB) April 12, 2012
Further improvements in corporate governance at major financial services firms are crucial to securing greater financial stability, asserted the Group of Thirty (G30), the international forum of public and private sector financial leaders, in a major report released today.
The G30 stated in its report, Toward Effective Governance of Financial Institutions, that although many financial services firms have drawn lessons from the 2008-2009 financial crisis and implemented substantial governance reforms, no one should presume that governance in leading financial institutions has been fully addressed.
"The stability of individual financial institutions (FIs) and the global financial system itself demands far-reaching governance reforms on the parts of boards of directors, firm management, regulators and supervisors, as well as long-term shareholders. Improvements in governance need to fully complement the extensive regulatory reforms that are now being implemented. Our new report provides the first post-crisis detailed governance action plan to be developed by the private sector," stated Roger W. Ferguson Jr., Chairman of the G30 Steering Committee on Corporate Governance; President and CEO, TIAA-CREF; and former Vice Chairman, Board of Governors of the Federal Reserve System.
G30 Chairman Jean-Claude Trichet, former President of the European Central Bank, said, "Weak and ineffective governance of systemically important financial institutions (SIFIs) contributed to the massive failure of financial-sector decision making that led to the financial crisis. The paramount aim of our new report is to promote changes in governance behavior, which demands changing the ways in which people think so that they can successfully induce the specific, tailored reforms that will enhance governance in their institutions."
Mr. Ferguson added, "Effective governance greatly depends on the tone set at the top. The corporate culture dictates the values and the behaviors of the people in the firm and how they interact. FIs can tailor and optimize governance processes and procedures, but if they have the wrong people, or if those people do not behave with integrity and transparency, the arrangements will not save them. Leadership makes a huge difference."
The G30 stresses that in a modern economy, business leadership represents a large concentration of power. The social externalities associated with the business of significant financial institutions give that power a major additional dimension and underscore the critical importance of good corporate governance of such entities.
The G30 report is based on an examination of governance arrangements at 36 of the world's largest financial services firms, interviews with leaders of FIs, regulators and supervisors, which was carried out by Tapestry Networks in collaboration with Ernst & Young LLP.
Sir David Walker, a vice chairman of the G30 Steering Committee; Senior Adviser, Morgan Stanley International, commented at a press conference today, "Looking back, it is clear that regulation and supervision before the financial crisis severely underestimated the potential systemic impact of pressures stemming from failure in one or more asset classes in the globally interconnected financial markets. Simultaneously many boards of directors of financial entities failed to grasp the risks that their institutions had taken on and to appreciate their vulnerability to major shocks and, often spurred on by shareholders, focused on performance to the detriment of prudence."
Sir David continued "Since the crisis there has been an unprecedented process of financial regulatory reform to remedy these serious weaknesses that had become apparent. But better regulation by the public sector needs to be matched by private sector initiative in the form of better boardroom performance. The best assurance of financial stability will be delivered by effective governance and risk-based regulation working in complement to each other."
A major section of the report discusses ways to strengthen the governance functions of the board of directors. The G30 concluded that splitting the roles of CEO and Chairman should be strongly encouraged. A combined role may be acceptable if the board appoints a lead or senior independent director with the responsibility and authority to act as though s/he were the non-executive chairman under circumstances that call for greater independence.
William R. Rhodes, a Vice Chairman of the Steering Committee; President and CEO, William R. Rhodes Global Advisors; and former Senior Vice Chairman, Citigroup, said, "We underscore in our report that the board's crucial task is to ensure that the firm takes every step possible to protect against potentially fatal risks. While boards should not try to manage firms, they need to be unstinting – more so in the future than many have been in the past - in their concern for reputational risk. Boards need to champion an appropriate culture within the business, be willing to challenge management, and vigorously discuss all strategic proposals, key risk policies, and major operational issues."
Mr. Rhodes pointed out that, "In our important report today we rejected the suggestion that boards need to have a very high concentration of financial specialists. We believe that the most effective boards are diverse ones, both in terms of the range of business experiences of the members, but also in terms of gender and ethnic considerations. An indispensable characteristic of an effective board is its openness to different ideas, ways of thinking, and points of view."
John Heimann, a Vice Chairman of the Steering Committee; Senior Adviser, Financial Stability Institute; and former U.S. Comptroller of the Currency, noted that a further focus of the report is on the interaction between boards and management and supervisors. He emphasized that, "Supervisors must understand the overall business, strategy, and risk appetite of each firm, and focus on a company's reaction to real-world events. Supervisors should be alert to occasions where firms are performing unexpectedly well and look at the sustainability of that performance."
He added: "Supervisors also must develop a more sophisticated appreciation of how corporate governance works, including governance structures and processes, board composition and new director selection, and what factors distinguish an effective board from a poorly performing one."
The G30's recommendations to improve governance includes the call on managements to strengthen the fabric of checks and balances in their organizations. The board and management reinforce the values that drive good behavior through the organization. The G30 also notes that long-term shareholders can and should contribute meaningfully to effective FI governance, although no one should depend on them to steer FIs away from another crisis. For their part, institutional shareholders should remain active in governance, commensurate with their ownership objectives.
The report stresses that values influence the behavior of those with governance responsibilities and the key to reform is to promote changes in the ways in which these individuals think about their responsibilities.For example, FI leaders would govern differently if they believed the following:

Governance is an ongoing process, not a fixed set of guidelines and procedures.
Diversity of governance approaches across FIs is a virtue, not a vice.
To get deeper and deeper into the details of all parts of the business may be a choice some boards will make, but endless detail is not a prerequisite for board effectiveness. Boards will need to dig deep selectively, as necessary for understanding.
Board independence and challenge is not evidenced by the number of times a director says no to management.
Having smaller boards that require greater time commitment from their members is a far better approach than having larger boards that require only modest time commitment.
Non-executive directors, sometimes called "outside board members", must bring an independent, external perspective.
The essence of FI governance is understanding risk. If a risk is too complicated to understand, it is too complicated to accept. Effectively balancing risk, return, and resilience takes judgment.
Values and culture are the ultimate "software" that determines the behaviors of people throughout the FI and the effectiveness of its governance arrangements.
A governance system should be judged by how well it functions. A functional governance system requires the following elements:

A board of directors that carries out its vital role.
A set of management protocols for governing and controlling operations in huge and complex organizations that assures clear management accountability.
A constructive and rigorous supervisory arrangement.
Shareholders who have an appropriate voice and who exercise their rights and obligations.
PDFs of the Executive Summary and the full report are available at http://www.group30.org.