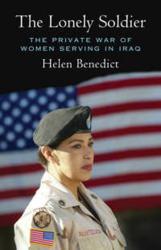 Elms College Theatre Program will perform "The Lonely Soldier Monologues: Women at War in Iraq," a play that is a dramatic rendition of Helen Benedict's 2009 book, "The Lonely Soldier," about female soldiers who served in Iraq between 2003 and 2006.
Chicopee, Massachusetts (PRWEB) April 11, 2012
The Elms College Theatre for Social Justice will perform "The Lonely Soldier Monologues: Women at War in Iraq" at 7:30 p.m. on Tuesday, April 17 and Wednesday, April 18 in Veritas Auditorium. Following the Tuesday performance, the play's writer, Helen Benedict, will participate in a discussion about the play and will read an excerpt from her latest novel, "Sand Queen," about a female soldier at war. Afterward, she will sign copies of "Sand Queen" and "The Lonely Soldier: The Private War of Women Serving in Iraq."
The entire cast and crew is comprised of members of the Elms community, including students, alumni, and faculty. Elms College Music Professor Christopher Backriges and his students will perform accompanying music from the off-Broadway production.
This play is entirely in the words of seven women soldiers, constructed from Benedict's interviews with them conducted during a period of three years. The 75-minute performance premiered off-Broadway in 2010 and is staged in three acts, focusing on the women's experiences before, during, and after combat.
This event is open to the public. Admission is free for individuals with an Elms College ID and $10 for guests and members of the general public. Copies of Benedict's books will be available for purchase. For more information, contact James Gallant, director of theatre programs, at gallantj@elms.edu.
Helen Benedict is a professor of journalism at Columbia University and the author of 11 books. Her work on women soldiers won the 2010 EMMA from the National Women's Political Caucus, the 2010 Ken Book Award, and the 2008 James Aronson Award for Social Justice Journalism. She has testified before Congress twice and inspired a class-action suit against the Pentagon on behalf of women soldiers, and inspired the forthcoming documentary, "The Invisible War." For more information, go to http://www.helenbenedict.com.
Elms College is a co-educational, Catholic college offering a liberal arts curriculum that gives students multiple perspectives on life. Founded in 1928 by the Sisters of St. Joseph, Elms College has a tradition of educating reflective, principled, and creative learners, who are rooted in faith, educated in mind, compassionate in heart, responsive to civic and social obligations, and capable of adjusting to change without compromising principle.