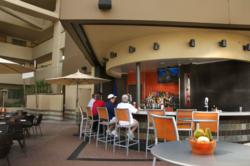 The HooDoo menu highlights the meats, fish and native herbs and spices characteristic of the region's rich heritage.
Palm Springs, CA (PRWEB) April 11, 2012
Hyatt Regency Suites Palm Springs in Palm Springs, California, announced today that an enticing new restaurant has just come onto the Palm Springs scene. Restaurant-goers throughout the Coachella Valley are invited to sample the unique sights, sounds and tastes of HooDoo, featuring crafted cocktails and food. The downtown Palm Springs restaurant is conveniently located on the front terrace of the hotel at the northwest corner of North Palm Canyon Drive and Amado. The only all-suites hotel in downtown Palm Springs, the Hyatt Regency recently completed extensive renovations that bring a contemporary feel to the hotel. The hotel is managed by Davidson Hotels & Resorts, one of the nation's largest independent hotel management companies, who performed the property renovations including the creation of Hoo Doo.
From the moment guests enter, they will encounter the Southwest ambiance of HooDoo, named for the fantastic rock shapes left by desert erosion. Earth-toned tile, desert landscaping and the soothing sounds of waterfalls reminiscent of the Indian Canyon oasis are the hallmarks of this new Palm Springs restaurant. When seated at one of HooDoo's casual outdoor tables accented with a fresh cactus centerpiece, guests will enjoy the scents of fresh herbs and spices wafting from the kitchen and know they've come to the right place to sample delicious California fare with a surprising South American influence.
This desert region of southern California is an international travel destination offering marvelous weather, world class resorts, golf courses, spas, shopping, casinos and a collection of eclectic Palm Springs restaurants offering imaginative food, stylish décor, original cocktails and popular wines. The HooDoo menu embraces this culinary style by highlighting the meats, fish and native herbs and spices characteristic of the region's rich heritage. Diners will savor dishes such as Shrimp La Plancha – plump shrimp with tequila, roasted garlic, sea salt, lime and tostadas; Chimichurri - char grilled skirt steak with tomato and avocado salad; and succulent Dungeness crab salad served on a buttery Boston roll. Tempting hand-crafted cocktails, prepared fresh at the HooDoo Bar complete their meal experience. Names like "Brazilian Ballerina" and "Dragon Fruit Spritzer" offer choices that are hard to resist and leave one promising another visit to try them all. Guests will immediately be captivated by the staff's warm greeting and thoughtful, savvy service.
The relaxed and trendy vibe of this restaurant in Palm Springs embraces the entire corner at North Palm Canyon Drive and Amado Avenue, known as one of the best outdoor spots to see and be seen in the city. Live musical entertainment on Friday and Saturday nights adds a beat to the downtown scene and invites diners to linger over intimate conversation and after-dinner libations.
HooDoo is open daily from 11am to 11pm (weather permitting). Complimentary self-parking is available.
ABOUT HYATT REGENCY SUITES PALM SPRINGS
Located in downtown Palm Springs overlooking the San Jacinto Mountains, the Hyatt Regency Suites Palm Springs atrium-style hotel offers resort-like charm and the city's best views. The hotel's 197 spacious suites feature a separate living room, two 42" flat screen TV's, a sofa bed, refrigerator, iHome stereo with iPod docking station, spacious marble bathroom, and a private balcony. Hotel amenities include Wi-Fi in all public areas; 24-hour StayFit™ gym; heated outdoor swimming pool, hot tub and spacious sundeck with private cabanas, seating area with firepits and pool bar; more than 12,000 square feet of indoor and outdoor meeting space; and nearby walking and jogging trails. Dining options include SHARE Wine Lounge & Small Plate Bistro, HooDoo and the pool bar. For more information about the Hyatt Regency Suites Palm Springs, visit our hotel website.
ABOUT DAVIDSON HOTELS & RESORTS
Davidson Hotels & Resorts is an award-winning, full-service hotel management company that provides management, development/renovation, acquisition, consulting and accounting expertise for the hospitality industry. The company's portfolio encompasses 47 upscale, full-service independent and branded hotels with nearly 13,400 rooms across the United States, including such affiliations as Hyatt, Renaissance, Marriott, Westin, Sheraton, Hilton, Embassy Suites, Doubletree, Radisson, Hilton Garden Inn and Courtyard. Additional information on Davidson may be found at our website.