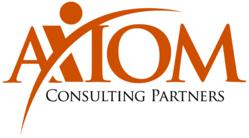 Chicago, IL (PRWEB) April 11, 2012
Axiom Consulting Partners experts will be speaking about compensation and strategic workforce planning at upcoming events sponsored by HR.com and the HR Leadership Forum.
Axiom's Dr. Aaron Sorensen will lead an HR.com virtual conference titled "Applying the Power of Scenario Planning to Strategic Workforce Planning", April 17, 12:00 – 1:00 pm (ET). Dr. Sorensen will explain how managers can utilize scenario planning techniques to map out the range of likely futures for a business and the implications for critical talent management decisions.
Axiom partner Juan Pablo Gonzalez will be discussing "Incentive Compensation Trends in Nonprofits" at an HR Leadership Forum event, Thursday, April 19 in Washington, DC. Gonzalez, co-author of Shockproof: How to Hardwire Your Business for Lasting Success, is an expert in executive compensation and human resource strategy. He will be joined by Fred Singerman, attorney at Seyfarth Shaw and David White Jones, Principal & Director of Executive Compensation Services at Matthews, Young. Register by contacting Margot Gresham at admin(at)hrleadershipforum(dot)org.
About Axiom Consulting Partners
Axiom Consulting Partners works side-by-side with leaders to deliver pragmatic solutions that drive results. Our services help clients clarify strategy, focus on the highest priority sources of value and align their capabilities, processes and people to deliver sustainable, profitable growth. We always look at a client's challenges through the lenses of business strategy, organization design and talent management – it's why they choose us over firms that operate in just one of these disciplines.