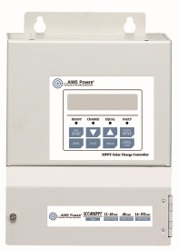 "Our new MPPT 40 amp charge controller offers all the features our customers want. It pairs up nicely with our solar panels." Bruce De Jong, AIMS Power
Reno, Nevada (PRWEB) April 12, 2012
AIMS Power Corp. , a global leader in power inverter products and solar panels recently introduced a brand new 40 amp MPPT solar charge controller. This new addition to the AIMS Power product group will be offered with the very popular AIMS Power solar panels, which are available in 230 watt, 120 watt, and 60 watt sizes.
This new MPPT solar charge controller is a 40 amp charger controller, which is capable of handling 12 volt, 24 volt, 36 volt and 48 volt off grid solar and wind systems. AIMS Power designed this solar charge controller with flexibility in mind. According to Bruce De Jong of AIMS Power, "we are working toward offering a complete solution for off-grid solar systems, our new mppt charge controller takes us one step closer to a complete solution."
The AIMS Power MPPT 40 amp solar charger controller integrates Maximum Power Point Tracking (MPPT), battery charge management and state of charge information into one unit. In addition, it has a Built-in Battery Energy Monitor that tracks power production and consumption in order to calculate the energy remaining in the battery bank. Your State of charge (SOC) is displayed in percentage of full capacity, Amp-hours, Watt-hours, and 90 days of energy-harvest history and is stored in the unit.
Not only does this new solar charge controller from AIMS Power support Flooded Lead Acid (FLA) type batteries,but it also handles GEL and Absorbent Glass Mat (AGM) batteries. This new charge controller is capable of 2/3/4-stage charging and can handle PV modules in series up to 192VDC. The customer also has the option of connecting 16 units in parallel to handle higher currents in larger solar systems.
This latest addition is another example of AIMS Power's, continual efforts to work on the front end of power inverter and solar power technologies and consistently offering new and innovative products to meet the needs of the consumer. You can expect to see more exciting inverter and solar products from AIMS Power in the future.
About AIMS Power Inc.
AIMS Power Inc., headquartered in Reno, Nevada, offers a complete line of dc to ac power inverters. AIMS Power Inc. delivers industry leading products in both pure sine wave and modified sine wave, including 12 volt inverters, 24 volt inverters, 48 volts inverters, inverter chargers and low frequency inverters. AIMS power inverters are used around the globe in many different applications including mobile businesses, off-grid power systems, emergency back-up power systems and sump pump backup systems. In addition AIMS power inverters can be used in work trucks, fleet vans, luxury motor coaches, charter buses, conversion vans, rescue and fire vehicles, RV's and boats. AIMS Power Inc. also offers solar charge controllers, KACO Blue Planet inverters and solar panels in 12 volts and 24 volts. Established in 2001, AIMS Power Inc. distributes in North America, Central America and South America as well as over 30 other countries worldwide.