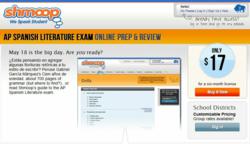 Mountain View, CA (PRWEB) April 10, 2012
With Cinco de Mayo right around the corner, Shmoop has a lot to celebrate, like getting all students ready for the next AP Spanish Language and AP Spanish Literature exams (right around the corner on May 8th and 18th, respectively, but no pressure…none…at all). So check out some test practice that won't make students snooze. Shmoop invites students and teachers to kick their shoes off and dive in.
Shmoop believes that test prep should be: a) boring; b) snooze-button boring; c) texting-and-on-facebook-boring; or d) fun and fast-paced. Answer? Obviously "d." Pretty easy so far, no?
Key points of Shmoop's spicy linguistic test prep journey:
1. Take advantage of examples that students won't find anywhere else. Let's see, how to write an essay. Step 1: Build a Frankenstein monster. Step 2: Capture King Kong. Trust Shmoop, it's good.
2. Shmoop has also tossed in, just for fun, hundreds of explanations, examples and exercises on every section and type of question that students need to know for the exams.
3. The birds are chirping, the bees are buzzing, the skies are cloudless and blue…and students are stuck indoors, getting ready to take AP exams. Shmoop bets students could think of at least 12 things they'd rather be doing right now. Shmoop thought of and included at least 213: 4 Full-Length Timed AP Spanish Language and Literature Practice Tests, 139 Practice Problems (with on-the-spot feedback and explanations), and 70 additional Grammar Problems (also with explanations).
4. Shmoop will help students take down each and every section of both exams – 7 for Language and 4 for Literature – multiple choice, essays and speaking. Shmoop has also put together a handy grammar review that covers 15 categories, to up students' confidence and content levels in a jiffy.
5. Flex to the max. This is a student's to-do list as he/she preps for his/her exams. Check off the boxes in Shmoop's suggested order. Or be a rebel and jump around. It's the student's call. A student can retake sections to try to improve her understanding and final scores. Or her Shmoints for prize winning purposes too.
Shmoop AP Spanish Language and AP Spanish Literature. In all their glory. No dictionary or snooze button required. Come check Shmoop out!
For more scoop on Shmoop's AP Spanish Language and Literature exams, visit http://www.shmoop.com/ap-exams/.
About Shmoop
Shmoop is a digital curriculum and test prep company that makes fun, rigorous learning and teaching materials. Shmoop content is written by master teachers and Ph.D. students from Stanford, Harvard, UC Berkeley, and other top universities. Shmoop Learning Guides, Test Prep, and Teacher's Editions balance a teen-friendly, approachable style with academically rigorous materials to help students understand how subjects relate to their daily lives. Shmoop offers more than 7,000 titles across the Web, iPhone, Android devices, iPad, Kindle, Nook, and Sony Reader. The company has been honored twice by the Webby Awards and was named "Best in Tech" for 2010 and 2011 by Scholastic Administrator. Launched in 2008, Shmoop is headquartered in a labradoodle-patrolled office in Mountain View, California.