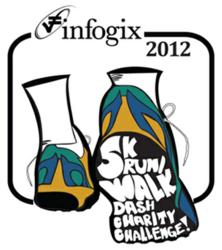 Naperville, IL (PRWEB) April 10, 2012
Infogix, Inc., a developer of software to help businesses eliminate costly information errors, has opened registration for the inaugural Infogix Charity Challenge 5K Run/Walk/Dash at Danada Forest Preserve in Wheaton on Saturday, April 14. Proceeds will go to six area charities, and participants will find themselves running next to Wheaton residents Jerry and Estella Hayes, a husband-and-wife team who lost a combined 260 pounds after appearing on the NBC reality show "Biggest Loser."
"Infogix has been part of the DuPage County community for 30 years, so we want to celebrate our anniversary with our friends and neighbors while helping several charitable organizations our employees feel passionately about," said Sumit Nijhawan, company operations leader, Infogix, Inc. "Along with raising money, we want to raise awareness of the importance of maintaining a healthy lifestyle. What the Hayes accomplished during their participation on "Biggest Loser" is remarkable, and they will inspire and educate everyone who joins us on Saturday."
Money raised during the event will be split evenly among six charitable organizations: Alzheimer's Foundation, American Diabetes Association, Make-A-Wish Foundation, Misericordia, Northern Illinois Food Bank, and the Wounded Warrior Project.
Jerry and Estella Hayes were the oldest contestants in the history of the "Biggest Loser" when they appeared on season seven in 2009 at 64 and 63 years old respectively. Jerry weighed 369 pounds, Estella weighed 242 pounds. Although they were voted off early in the season, they continued to follow the exercise regimen and nutrition program and lost a combined 260 pounds. Jerry won the "Biggest Loser" $100,000 at-home prize for the contestant who lost the highest percentage of body weight among contestants voted off the show.
"Exercise is so much more fun when you can do it with your friends or family, so what better way to spend a Saturday afternoon running or walking through the beautiful Danada Forest Preserve while raising money for charity at the same time," said Jerry Hayes. "Estella and I have improved our health dramatically. We are no longer treated for high blood pressure, diabetes, or high cholesterol, and we're proof that you can exercise vigorously and stay healthy no matter how young or old you are."
Pre-registration and Race Times
The 5K chip-timed Run and 5K Walk start at 9 a.m., with a kids' dash on beginning at 10:30 a.m. To register online, go to: http://www.infogix.com/5K.
All participants are asked to pick up their race packets (runner bib, timing chip, t-shirt and goody bag) during one of the packet pick-up events at Infogix's offices at 1240 East Diehl Road, Suite 400, Naperville, IL 60563:

Thursday, April 12 from 8am to 12 noon
Friday, April 13 from 12 noon to 5pm
This event is certified by the Chicago Area Runner's Association as a CARA Emerging Race. The Danada Forest Preserve is located on Naperville Road (3 S 580 Naperville Road) and Frank Bellinger Parkway, approximately one half mile north of I-88 and one mile south of Butterfield Road.
About Infogix, Inc.
Many of the world's largest enterprises depend on Infogix to transform their operations. Through the use of Infogix solutions, customers are able to control, analyze, and improve their operations by realizing the full value of the Infogix Business Operations Management solution. Since 1982, Infogix has been providing Infogix Controls Solutions to Global 2000 enterprises. Millions of Infogix Controls continuously monitor and assure the integrity of information in hundreds of enterprises each day. For more information, call +1.630.649.6800 (U.S, Canada, and International), or visit http://www.infogix.com today.