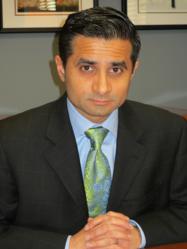 Doylestown, PA (PRWEB) April 10, 2012
Antheil Maslow & MacMinn, LLP, a Bucks County-based full-service law firm, announced the addition of Vishal S. Petigara to the Firm's Tax, Business & Finance and Corporate Practice Groups. Vishal's practice focuses primarily on researching and advising clients as to international, federal and state tax issues, planning and preparing documentation for complex commercial transactions, including mergers and acquisitions, general corporate matters (including the drafting of contracts, regulatory filings and corporate governance issues), partnership issues, and public finance. His experience spans a broad array of industries including hospitality, health care, retail, manufacturing, technology, working with local governments for purposes of contracting service providers and financing projects, corporate finance and real estate.
Vishal received his L.L.M. in Taxation from the University of Miami School Of Law and was the recipient of the University of Miami Tax Scholars Award. He was awarded his Juris Doctor from the Hofstra University School of Law. He received his Bachelor of Arts degree in Political Science from Bloomsburg University of Pennsylvania.
Vishal is active with the Central Bucks Chamber of Commerce, serving on the Entrepreneurial Assistance and Government Affairs Committee. He was a presenter at the Central Bucks Chamber of Commerce's Healthcare Forum and is a regular presenter at the Chamber's annual Economic Summit. Vishal is also a member of the Philadelphia Bar Association's Young Lawyers' Tax Exempt Group and a member of the American Bar Association's Tax Section. He also serves on the Finance Committee of the Pearl S. Buck Foundation
Prior to joining the Firm, Vishal practiced in the Tax, Business and Corporate Groups at several large Philadelphia law firms.
Serving the greater Philadelphia and New Jersey areas, Antheil Maslow & MacMinn, LLP is a full-service law firm that offers sophisticated, proactive, timely and cost-effective legal advice. The Firm's attorneys are both counselors and advocates. As counselors, Antheil Maslow & MacMinn, LLP lawyers educate clients, which include high net worth individuals, small to mid-sized, privately-held companies, nonprofits and health care organizations, on the law and possible legal implications of their actions. As advocates, they aggressively represent their clients' causes. With its broad range of practice areas in Business & Finance, Tax & Estates, Real Estate & Land Use, Litigation, Labor & Employment, and Personal Injury, Antheil Maslow & MacMinn, LLP has the depth of resources and knowledge to satisfy its clients' evolving needs for legal education and representation and help them reach their ultimate goals.