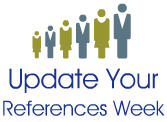 As the founder of International Update Your References Week, Career Directors International strives to educate job seekers about the necessity of having an up-to-date reference page along with well-educated references who are prepared to talk about them.
Melbourne, FL (PRWEB) April 11, 2012
Ask most job seekers what goes in a resume, and even a cover letter, and they can answer. Tell them they need references, and suddenly they are stumped. "What format?" they ask? "Do I need reference letters?" they query. "Who should I use?" they wonder. "Do they go on the resume?" they question. "What if I don't have references?"
As the founder and sponsor of International Update Your References Week, scheduled the first full week of May each year and due to kick off this year on May 6th, Career Directors International, a global association of resume writers and career coaches, strives to educate job seekers about the necessity of having an up-to-date reference page along with well-educated reference who are prepared to talk about them.
Career and resume professionals everywhere are encouraged to spread the word about International Update Your References Week and to use the event as a platform to educate job seekers on the necessity of preparing and maintaining effective employment references. A registered event, it can benefit everyone interested in helping job seekers to better prepare and succeed in their job search and career management.
To help get job seekers started, CDI asked their member resume writers, career coaches, and recruiters to share the secrets to a successful reference page. Following are a few key tips with the rest available on the Update Your References Week web page.
1. Why do references need to be provided to an employer?
Up to 60% of employers check references, so it is necessary for job seekers to be prepared to be asked for them. Offering them at the end of the interview is proactive and demonstrates a job seeker is confident about his or her skills and relationships.
2. Who makes a good reference?
Appropriate references are usually previous bosses, supervisors, employers or leaders of volunteer organizations for which an individual is affiliated. If this limits the job seeker, then he or she might consider customers, vendors, professors, and/or professional colleagues from networking, professional or community organizations. Select only individuals who will give a positive, professional reference. When in doubt, it is best not to use someone as a reference.
3. How many references are required?
Typically, a reference page should include three (3) business references and possibly one (1) or two (2) personal references, excluding family members. Never exceed six (6) references unless specifically requested to do so as this is overkill.
4. If a job seeker's last position ended with termination should they still list that employer as a reference?
Not necessarily. Most job applications specifically ask if they can contact a former employer as a reference. Proactively preparing and supplying references to a prospective employer puts the power in the job seeker's hands to seek out the best person for the reference.
A job seeker should look for a positive reference within an organization -- Is there another manager in the company that he or she had a good relationship with? Or, perhaps there is a manager who had left the company who would make a good reference? A job seeker might also turn to a co-worker or former client who was pleased with his or her work and who will vouch for successes attained at that particular company.
What's important is that the job seeker seeks out the best reference so that embarrassing conversations need not happen when an employer asks to speak to the last employer.
5. Is permission required of employment references to use them?
Always ask for permission to use someone as a reference and ensure they are comfortable sharing their contact information. A surprise reference check will not give an employment reference the opportunity (or the desire) to effectively talk about and promote the value of a job seeker to a potential employer.

Again, visit CDI's Update Your References Week web page for seven additional tips and more details on preparing professional employment references. Join CDI in celebrating and promoting International Update Your References Week – May 6th – 12th. Additional free job seeker resources can be found in CDI's Job Seeker site.
About CDI: Career Directors International – http://www.careerdirectors.com
CDI is a global professional association that is committed to ensuring that career and resume professionals can grow and thrive in a rich, vibrant, exciting, safe, and nurturing environment. CDI is focused on championing the industry's cause for credibility and visibility; fostering exceptional success in every generation of career and resume professionals; and cultivating the career superhero that exists within each one of us.